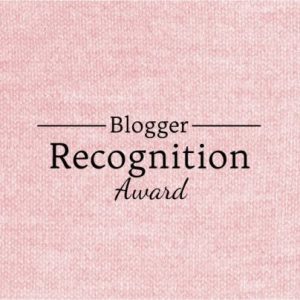 Belated Thanks
Three weeks ago, I came down with a nasty case of pneumonia. Which, of course, got me thinking about and wondering how our ancestors ever survived this scourge in the past without modern antibiotics (according to some of the death certificates I've looked at, many didn't).
But I digress.
While I was sick, I received a sweet comment from Linda Stufflebean, blogger at Empty Branches on the Family Tree, nominating me for the Blogger Recognition Award. Honestly, I didn't know these awards were even still going around, but Linda really made my day. 
So, this post is my belated thank you to Linda for nominating me. Thank you, Linda! 😊
Following the Rules
 Apparently there are a few "rules" for those who accept the award:
Thank the blogger who nominated me.
Write a post to show the award.
Write a brief story on how my blog started.
Share two pieces of advice for new bloggers.
Nominate seven other bloggers for this award.
Comment on each of their blogs to let them know they have been nominated for this award and provide a link to this post.
How I got started as a blogger
I have been blogging for 9 1/2 years and have written many times about how I got started as a blogger. The short version is that I began as a mommyblogger but was terrible at it and turned to genealogy blogging once I discovered that it was a "thing."
If you want to know more, you can read the longer version here.
My advice to new bloggers
 Don't be afraid – just jump in. We were all new bloggers once, and sure, it's a bit intimidating to get started. But you can do it! Write what's in your heart and mind. Ask your readers for assistance when you need it. For help and inspiration, consider joining the GeneaBloggersTRIBE.
Be YOU, Boo. Read other blogs for inspiration and ideas, but keep your blog authentically YOU. There is room in the blogging community for everybody, and you don't have to blog like anyone else. Plus, you will have a lot more fun with it if you keep it "real." 😊
Passing It On
Here are my 7 nominees (in no particular order):
All of these bloggers have different personalities, perspectives, and styles of writing. Some have been around for a long time; others are new(ish). And if you aren't following them already, you will definitely want to start!