Fresh slime was still dripping from my hair.
I had never seen a Dalek make such an explosive mess before, but there it was. I looked over at the tall, handsome man known as The Doctor standing before me.
"So… what now?" I asked, absent-mindedly wiping my hands on my jacket.
"Whatever you want." he smiled. "We just saved the Earth… let's celebrate! Where would you like to go?"
"I… I don't know. I hadn't thought about it. A bit busy, you know."
"Well then, let's think about it," he said. "Anywhere in time and space."
Anywhere…
To a genealogist, that could only mean one thing: the past.
The words were out of my mouth before I could stop them. "I'd really like solve a family mystery and find out what happened to my great-great grandfather, Samuel Marion Dunn."
"Ah, I do love a mystery," he said, his eyes gleaming. "Off we go now – allons-y!"
The TARDIS engines began wheezing and groaning. I don't know how he knew where – or when – to go because I sure didn't.
"Hold on!" he winked.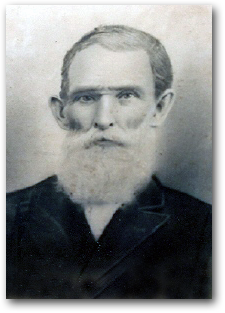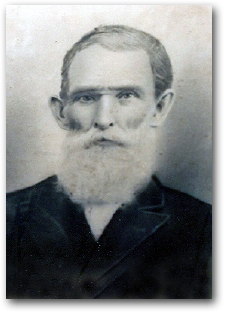 As the TARDIS rocked, I fell into a tattered chair beside the console and pulled out my phone. Opening my genealogy database, I scrolled down to the Ds, and there he was: the mysterious Samuel Marion Dunn.1
At least, what little I knew of him.
Born about 1818 in Lincoln County, North Carolina, Samuel was the brick wall at the end of my Dunn line. He married Julia Ann Blanton in 1839, and they went on to have eleven children, including my great-grandfather, John Dunn. The family eventually relocated to Greene County, Tennessee, where he and John made boots and shoes for a living. Both fought for the Union in the American Civil War, with Samuel serving as a sergeant in Co. K of the 1st Tennessee Cavalry. He applied for a pension in 1871, and that's where the trail goes cold.
I was jolted back to the present by the frantic ringing of the TARDIS's cloister bell.
"What's happening?"
"The TARDIS… she's encountered a paradox! She seems to think your Samuel exists in two places at the same time!" he shouted over the clanging.
I had often thought that, myself. Was he in Hamblin County, Tennessee, or was he in Georgia, as his son Philip claimed in a deposition for John's pension…2


"What do we do now?" I yelled.
"We need to find the last time and place that you know he existed. When was that?" he shouted.
"Let me check!" I looked at my phone. "Try… Whitesburg, Hamblin County, Tennessee… February 23rd, 1871."
It was worth a try. Samuel had signed a Declaration for an Invalid Pension on that date.3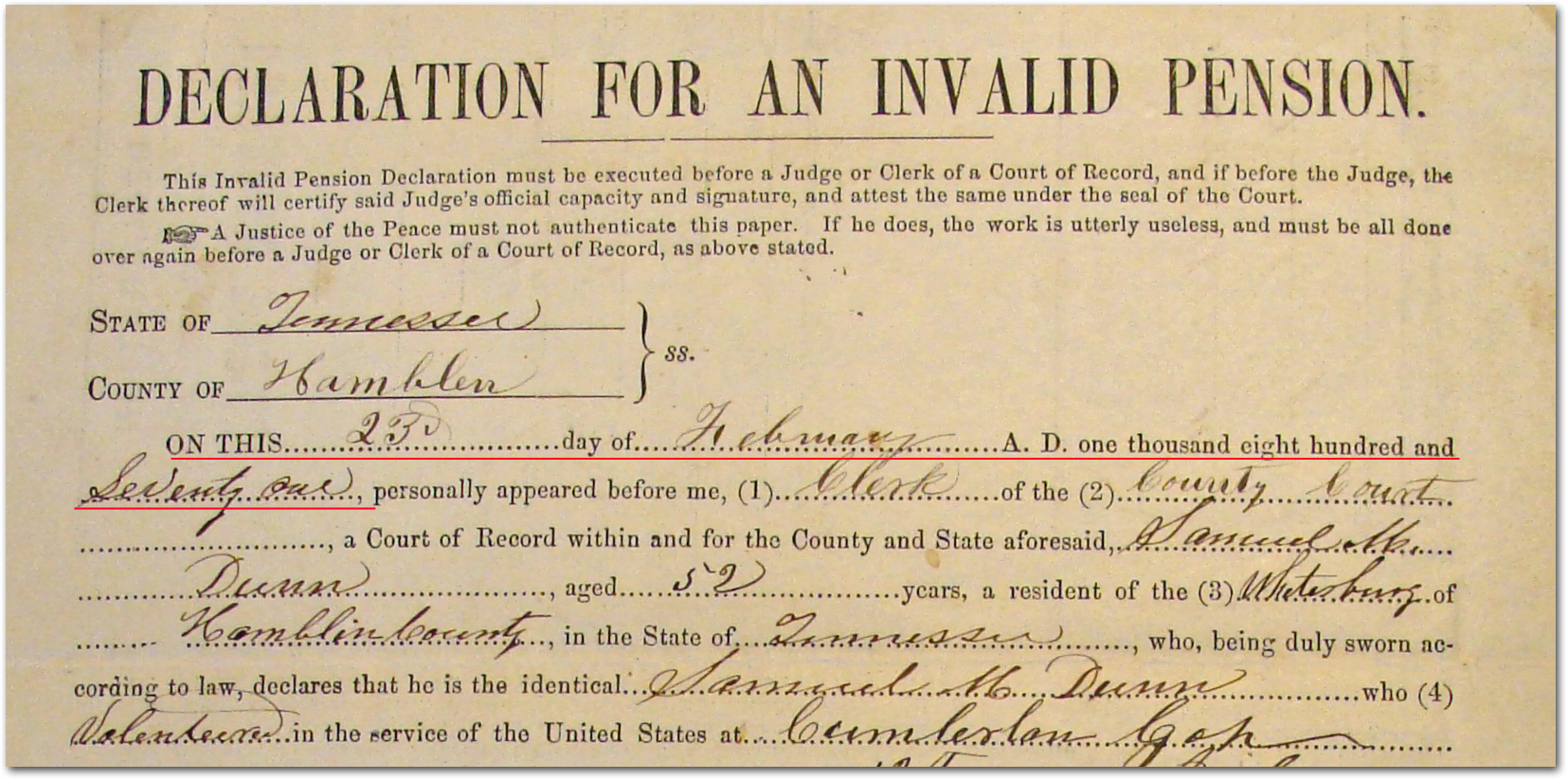 "Right then!"
Moments later, the cloister bell stopped ringing. As The Doctor busied himself flipping switches and pressing buttons on his TARDIS console, I began to think of all the questions I wanted to ask Samuel.
Assuming we ever found him.
Who were his parents?
Where was he in 1870 and why wasn't he enumerated with his wife and children in the 1870 census? Was he really in Georgia, as his son Philip claimed? Could he be the same Samuel Dunn found in Fulton County, Georgia?4
What happened to him after 1874?
And what happened to Julia?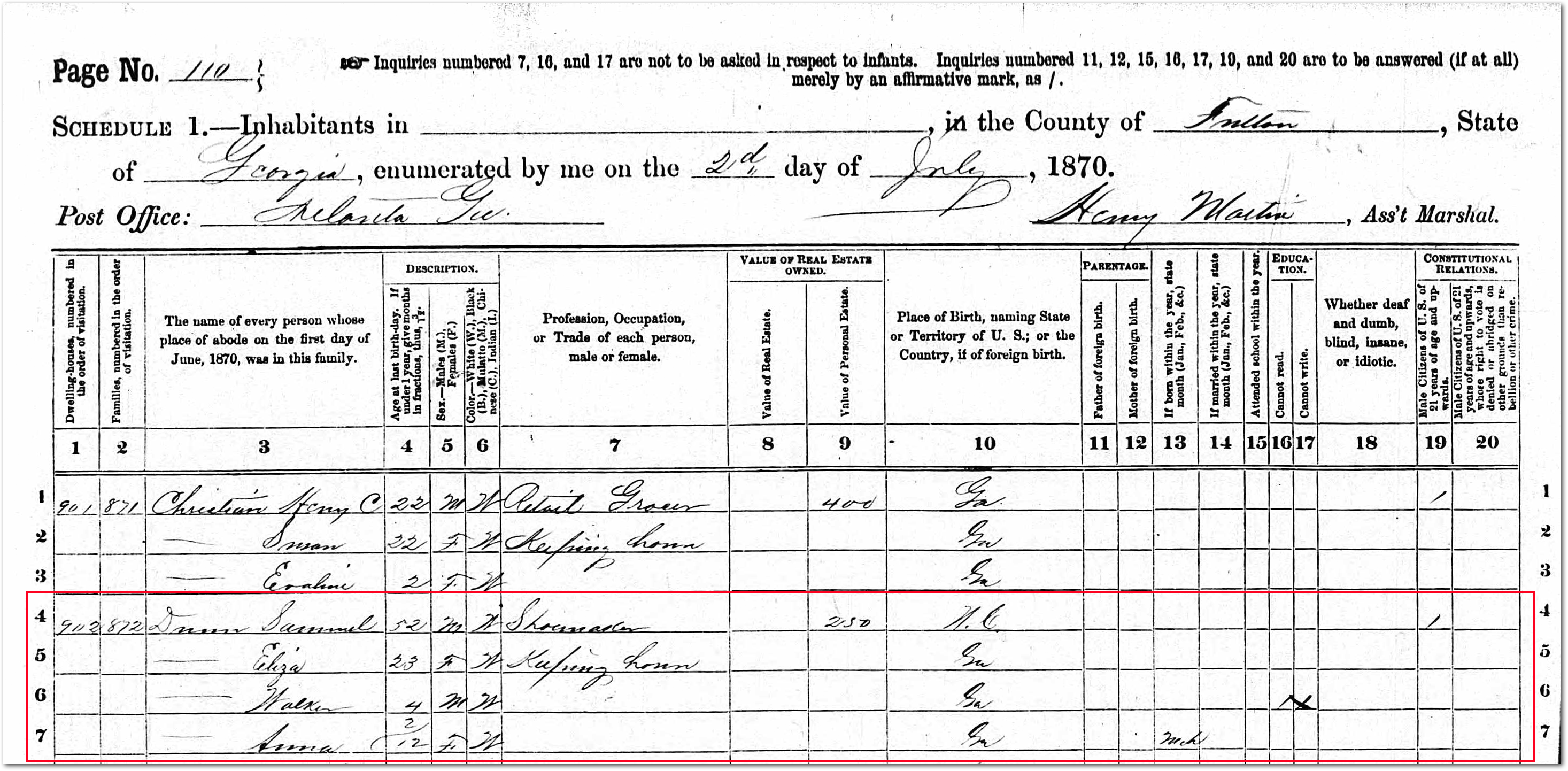 So many questions. I also wanted to know when and where he died, but if we found him – alive – he obviously wouldn't know the answer. I couldn't let him know I was from the future, could I? No, of course not…
The TARDIS stopped shaking and the engines went silent.
"Ah, here we are," The Doctor said, grabbing his coat and bounding toward the door. "1871. Tennessee. Earth."
He opened the door and smiled. I slowly rose from the chair and walked towards him.
This was it. Would I finally get the answers I so desperately wanted?

---
Sources