My Genealogy Fitness Plan: 2018 Edition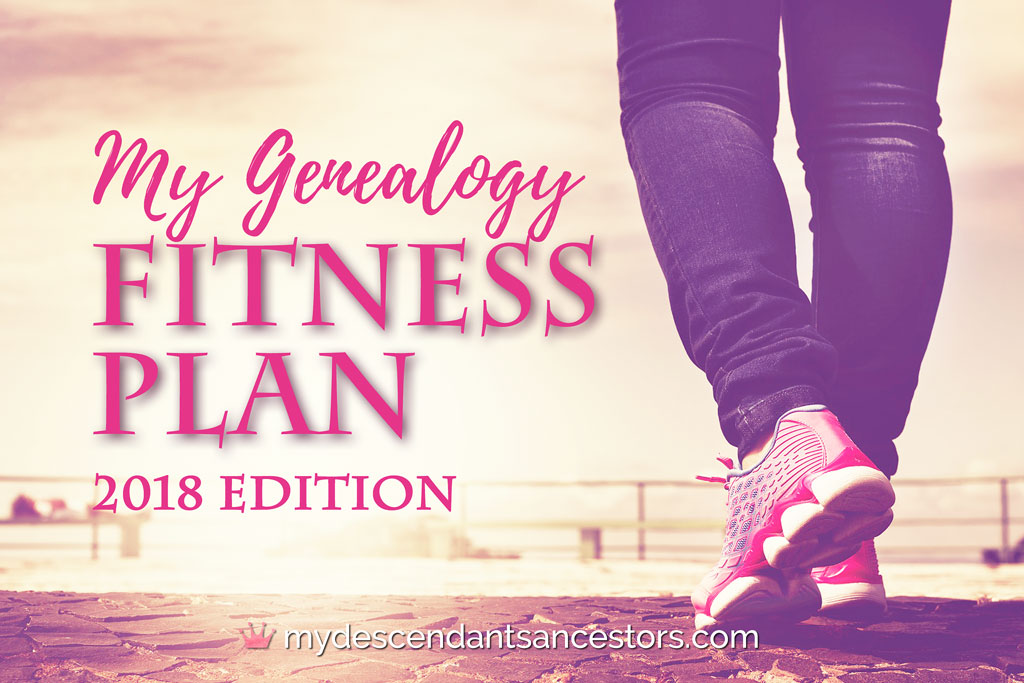 A failure to plan is a plan to fail.  ~ Benjamin Franklin (probably)
New Year, New Me
At least, that's the plan.
2017 was a rough year for my family and me. In particular, my health took a few hits and left me with issues that I'm still working to resolve.
So I decided to make 2018 the year of The Great Shape Up.
(Hence the theme of this month's Genealogy Blog Party.)
Priority One for me in 2018 is to shape up my health.
After a nasty bout of pneumonia last summer – my 2nd in 2 years – I needed to take a long, hard look at how I was (or wasn't) taking care of myself… or potentially risk not being around long enough to see my descendant graduate from high school.
I've also extended the Shape Up to other aspects of my life, including my home (clutter be gone!), my business, and my genealogy research.
It's going to be a busy year!
Get Healthy
If you're not interested in my boring health goals, please feel free to skip to the genealogy. 
My Get Healthy Shape Up includes the following goals:
Eat right and lose some weight
Exercise – Walk the dogs regularly, get to the gym 2–3 times a week, and quit ditching my ballet class
Read more
Let go of perfection
Make time to relax, either alone or with my family
I know it's only January, but so far, my progress is mixed.
I've already lost 6 pounds, which is one for the WIN column. The exercising isn't going particularly well, which I'm sure is a disappointment to the dogs. Plus, finding time to get to the gym and my ballet class has been difficult.
And the reading and relaxing? Let's just say I'm working on it.
To be honest, changing your lifestyle is hard, and I'm taking it one day at a time. I try to look at each day as a clean slate, a chance to forgive myself for yesterday's mistakes, and to do things right today.
As I said, it's only January.
Genealogy Fitness Plan for 2018
There's something about putting your goals in writing – and making them public! – that makes them REAL and holds your feet to the fire. I wish it made them more achievable!
Goal #1: Get Certified (or at least, get started)
That's right, I'm finally going "on the clock" to apply for certification from the Board for Certification of Genealogists (BCG). 😮
To that end, I'm already attending Jill Morelli's Certification Discussion Group with the goal of "demystifying" the process of certification. If you're interested in certification, I highly recommend getting on the waitlist for this course. My group has only had 2 sessions so far, but I can tell you that it has been well worth the money!
Goal #2: Increase my knowledge of genetic genealogy
I believe it is difficult to be a thorough genealogist today without using DNA in your research. In many cases, you really can't do a "reasonably exhaustive search" without it.
While I'm definitely not a DNA "newbie," I'm also not an expert. My goal is to be an expert. 
BTW, if you're attending RootsTech, you'll probably see me at many of the DNA classes offered!
Goal #3: I #amwriting (or I want to be)
I love to write.
In fact, few things make me happier than having a new blog post or other type of writing in the can. I also have a few book ideas that I'd like to work on… if only I had the time.
Volunteer Service
I strongly believe in giving back to the genealogy community, especially since it has been so good to me. So, I try to squeeze in as much volunteer service as my schedule can handle.
If you're interested in reading about some of my volunteer activities, please visit my About Me page. 
Conferences, Networking, & Learning Opportunities
I try not to pass up the opportunity to learn something new. Here are a few of the events and activities I'm planning to attend/participate in this year:
I'm sure there will be more activities in this column, but these are what I've got scheduled at the moment. 😊
Let's Do This Thing!
Looking at everything I've written above, I can't help but be a bit nervous. One month is already almost in the can, and only 11 more remain to get everything on my list accomplished! 😯
That said…I'm looking forward to an exciting, productive, and healthy 2018!
What are YOUR genealogy goals for this year? Please share them in the January Genealogy Blog Party!