12 Genealogy-Related Twitter Accounts to Follow in 2018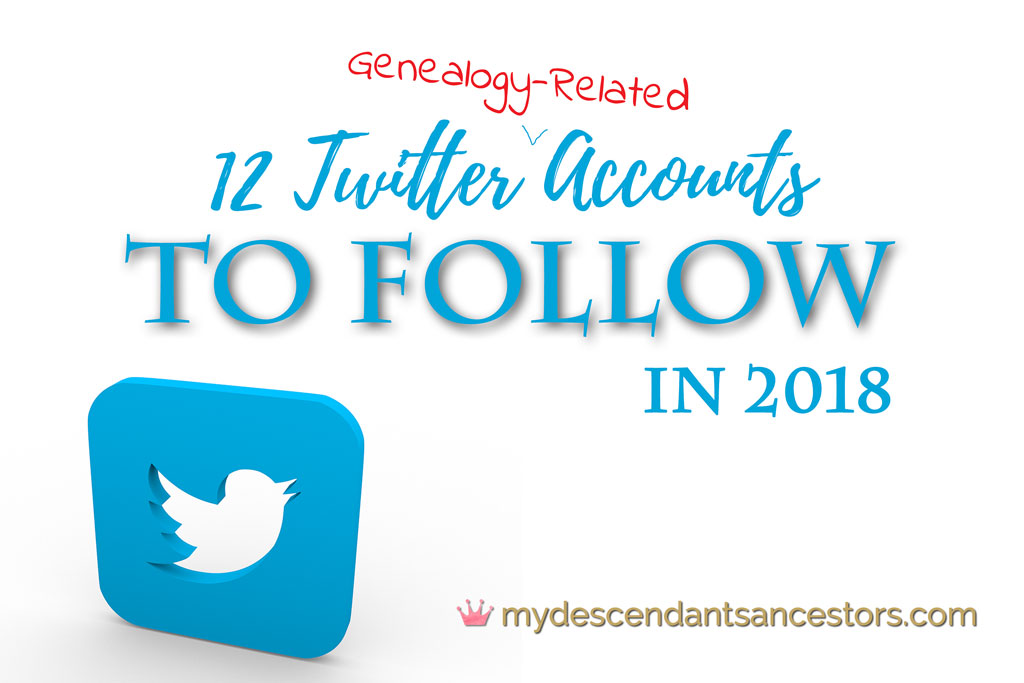 Twitter for #Genealogy
I joined Twitter back in 2007. At that time, it was still thought of as the "wild west" of social media, and it had been embraced by very few genealogists. However, over the past decade, thousands of genealogists have joined the fun and are "tweeting" regularly about #genealogy.
That said… I'll admit that I'm amazed at the number of people who say they just don't "get" Twitter. They claim that there are "too many conversations" going on at the same time, and they "just can't follow them all."
Well, I'll let you in on a secret: you don't need to follow them all.
Twitter is like being at a big cocktail party, with dozens of conversations going on all around you. You listen a bit over here, listen a bit over there, make a few comments of your own… your attention wanders all over the room.
And that's ok.
So, don't shy away from Twitter because you think there's too much going on. Join the party, take a listen, and jump in when you're ready.
You can start by following ME at @eliz_oneal. 😊
Why Twitter?
Founded in 2006, Twitter is one of the oldest social media platforms that are still relevant today.
Twitter is well-known for its strict character limit, which spawned the term "micro-blogging." However, Twitter recently increased the previous limit of 140 characters to 280 and has now rolled this feature out to all users, making it easier to express yourself while still maintaining some degree of brevity.
Unlike other social media platforms (I'm talking to you, Facebook), you can post to Twitter multiple times a day without being labeled a "spammer." In fact, multiple posts are encouraged. Even sharing the same post multiple times is a-ok.
And here's why: the average lifespan of a tweet is approximately 15–18 minutes.1
Whatever you put out there is only going to last for a short while before being lost in the vast jungle of tweets. Not everyone is going to see what you post anyway.
So… join the party and tweet away! 
Why these 12 accounts?
It was mostly subjective, but I did have a few guidelines:
Must tweet regularly about genealogy, history, DNA, maps, archeology, social history, and/or other topics of interest to genealogists. Bonus points if they make me giggle on occasion.
Tweets are more than just links to their own blog or website. Social media is an important and necessary tool for promoting your blog, website, YouTube videos, books, speaking engagements, etc., etc., but constant self-promotion makes for a dull Twitter feed.
Enriches the genealogy community by engaging with and retweeting others. Sharing is caring, and social media is meant to be social. These accounts have Real People behind them.
NO politics. We get enough of that everywhere else.
Want to know who's tweeting about #genealogy? Find out who to follow HERE!
Click To Tweet
Twelve to Follow

This is, of course, the Twitter account of Ancestry.com. Their posts are fun, engaging, and almost never fail to make me smile. One of my recent favorites was the challenge to describe your family history research using only emojis. Here's mine: ❓😡🐌😝💔😃🇨🇮🇫🇷 🇺🇸 🇬🇧🇨🇦🏴󠁧󠁢󠁳󠁣󠁴󠁿 📕🖥📷📞👽🔬✈💗

Are you a genealogist who likes to attend conferences, enter contests, or submit speaker proposals? What am I saying… of course you are. Then, you NEED to follow this account. Seriously, if it's happening in the geneaverse, Conference Keeper knows and is tweeting about it. #neversleeps

There is never a dull moment on David Allen Lambert's Twitter feed. Somehow, the NEHGS Chief Genealogist regularly finds time to tweet about interesting, unusual, and often personal things. The recent tribute to his mom – with a baby pic of himself – was very sweet.

As you might expect, the focus of Family Tree DNA's Twitter feed is DNA. And they enjoy sharing in your excitement when you make a DNA discovery (especially one using their product). But you'll also find tweets about history, archeology, biology, medicine, and lots more. Honestly, I had no idea that David Bowie's real name was David Robert Jones and he was worried that he would be confused with Davy Jones. #asif

Looking for geneabuds to chat with? You'll find them a-plenty when you follow #genchat and #genchatDNA. These genealogy chat groups are fun, educational, and truly are the "FASTEST 60 minutes of your life." The #genchat group meets on Friday nights, and #genchatDNA meets on Saturday nights. Visit the #genchat website for a list of topics for 2018.

ICYMI: The former GeneaBloggers is now GeneaBloggersTRIBE. Follow this Twitter account for tips on blogging, social media, website security, and other issues of importance to genealogy bloggers.

Love history? Then you'll want to follow HISTORY, the official Twitter account of The History Channel. Their Twitter feed never fails to inform, entertain, and make you say, "Hmmm." I'm still giggling at this spot-on commercial about a man waiting (im)patiently for his DNA results to arrive.

Marian's Twitter feed is upbeat, positive, and full of interesting tidbits. She puts the "social" in social media by frequently commenting and responding to others instead of just retweeting links.

A Certified Archives Manager, Melissa Barker tweets about historic preservation, archival products and tips, and other topics of interest. If you've got an item that needs to be preserved, Melissa can tell you how to do it. She also has an uncanny knowledge of which Kindle books are currently free or on sale, so be sure to take a look!

Melissa (Genealogy Girl Talks) @ggirltalk
You might know Melissa Dickerson (a.k.a. "Genealogy Girl Talks") as the "girl" behind the #genealogyphotoaday meme on Instagram. As such, you can expect to see many family history-related photos on her Twitter feed. In addition, she frequently shares tweets from others and promotes genealogy-related Twitter events. And she had time to crochet this hat.

If you're planning to attend the 2018 RootsTech Conference – which you absolutely should – this is the account to follow. You'll want to stay up-to-date with all the RootsTech events, speakers, and other fun happenings.

SirLeprechaunRabbit (The Bunny Bartender) @leprchaunrabbit
Last, but not least, Sir Leprechaun Rabbit will keep you informed and entertained about all things genealogy (and rabbits). He is one of the hosts of #genchat and #genchatDNA (see above), and is really just a lot of fun. I had no idea how closely he resembles a Minion until I saw this photo in his feed.
Did I miss anyone?
Which are your favorite genealogy-related Twitter accounts? Tell us below, in the comments!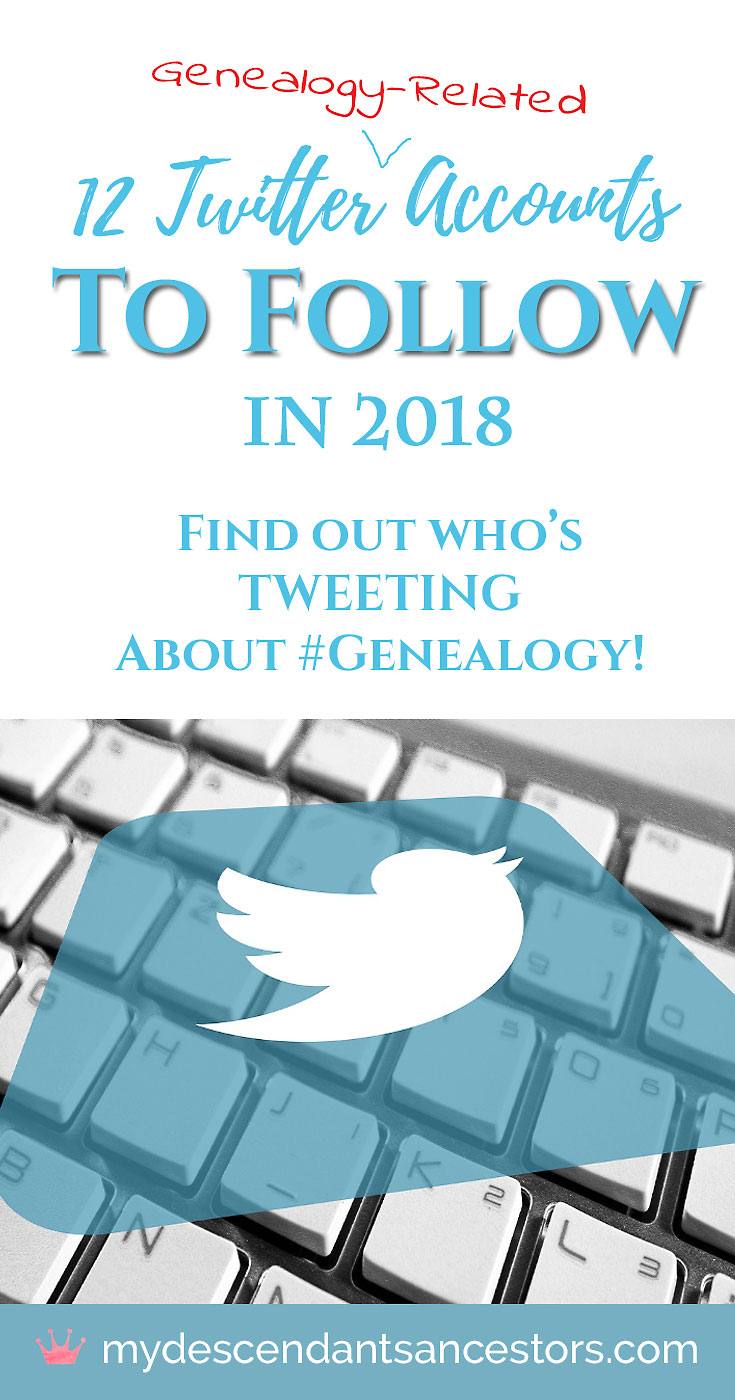 My Descendant's Ancestors is a participant in the Amazon Services LLC Associates Program, an affiliate advertising program designed to provide a means for us to earn fees by linking to Amazon.com and affiliated sites.
References
While there is some disagreement as to the exact lifespan of a tweet, most experts agree that it is somewhere between 15-18 minutes. For more about this topic, see "Your tweet half-life is 1 billion times shorter than Carbon-14's" from Wiselytics and "When Is My Tweet's Prime of Life? (A brief statistical interlude.)" from Moz.