Enter the "Your Ticket to RootsTech 2018" Giveaway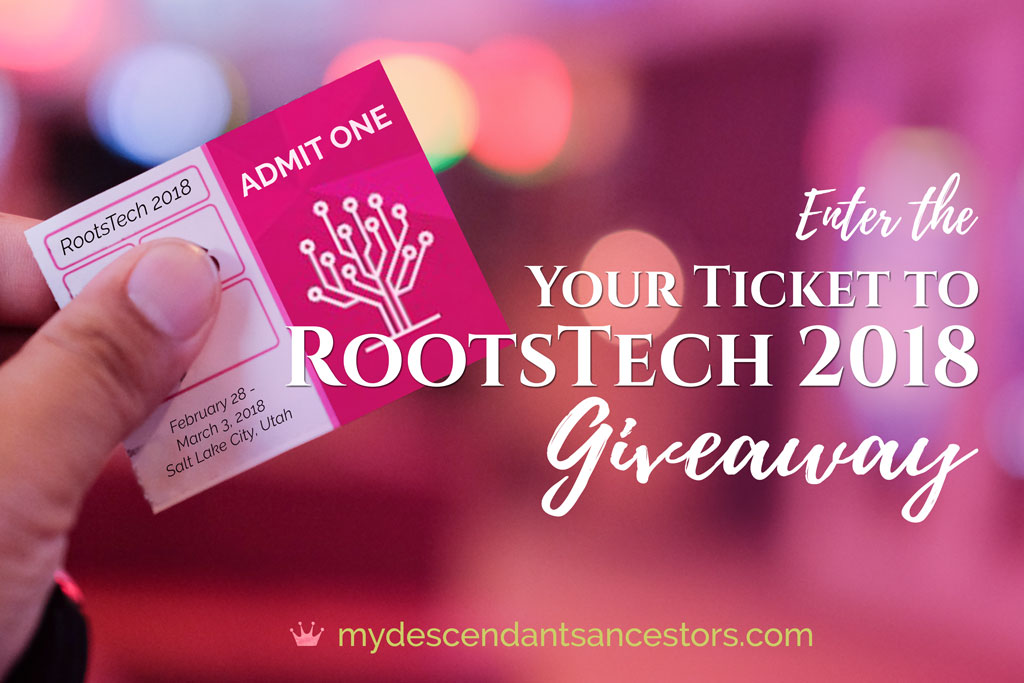 You want to go to RootsTech
You know you do.
I mean, why wouldn't you? RootsTech is only the biggest, blingy-est, most exciting-est genealogy conference around! 
And you don't want to miss that, do you?
If you're not sure what RootsTech is all about or why you should go, take a look at this post.
Go ahead. I'll wait. 😊
This Month's Giveaway
Spoilers: It's a free pass to RootsTech.
You saw that coming, right?
Yeah, yeah… I know. You can hardly surf the Internets these days without bumping into yet another RootsTech Ambassador giving away a free pass to RootsTech.
But that's ok because you want one. And here's your chance to win:
One (1) complimentary RootsTech 2018 4-day pass (a $279 value) 🎉
What will you get with this pass? THIS:
More than 300 classes
Keynote speakers and general sessions
The Innovation Showcase
The AMAZING Expo hall
One-of-a-kind evening events
Basically, a whole bunch of fun and learning that you won't get anywhere else. 😎
NOTE: This pass does not include airfare, hotel, meals, special events, or any other expenses. If you've already purchased a RootsTech pass, you will receive a full refund of your previous purchase if you are selected as the winner of this giveaway. 
How to Enter
Please use the official entry form below to enter the contest. Be sure to add your entries before midnight PST on 21 November 2017.
🚩 Adding a post to the November Genealogy Blog Party is worth 5 entries. If you are unsure of what this is or how to do it, please visit this page for details.
🚩 Adding a comment to this post is also worth 5 entries! Details are in the entry form.
"Your Ticket to RootsTech 2018" Giveaway Official Rules (abridged):
No purchase is necessary to enter or win.
The My Descendant's Ancestors "Your Ticket to RootsTech 2018" Giveaway begins on 7 November 2017 at 1:00 p.m. PST, and ends on 21 November 2017 at 11:59 p.m. PST. No exceptions.
This giveaway is open to all persons who are at least 18 years of age. Additional restrictions may apply.
Enter online by using the official entry form (above).
Entries that do not follow the rules will be disqualified.
One (1) winner will be selected in a random drawing from among all eligible entries received throughout the promotion period.
Airfare, hotel accommodations, meals, and/or other expenses are not included in this giveaway.
The winner will be notified by email at the email address provided in the entry Information within 3 days following the random drawing. Winner must respond within 3 days of notification.
Terms and Conditions are subject to change at any time without prior notification.
Good luck to all, and I hope to see YOU at RootsTech 2018! 🙂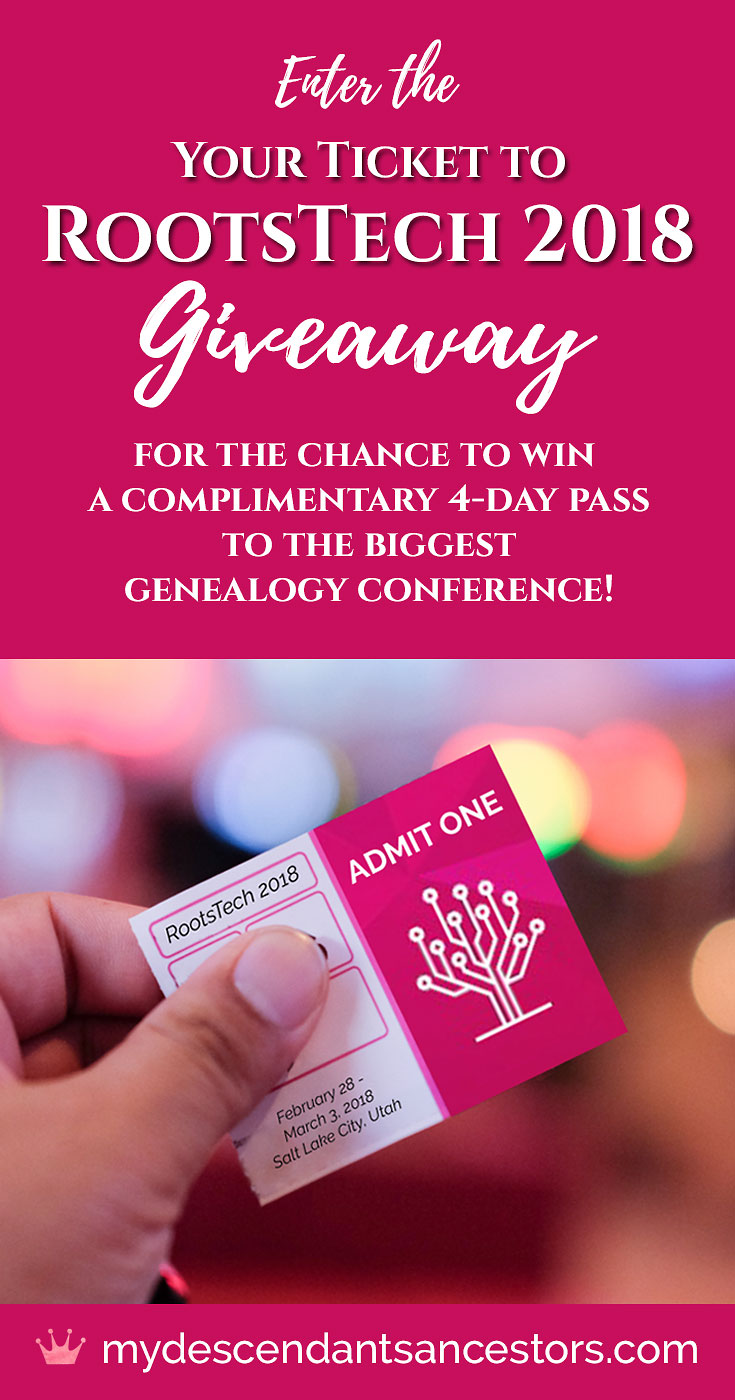 Disclosure: I am an Ambassador for RootsTech 2018.