"Oh Tennessee, My Tennessee" (Poem)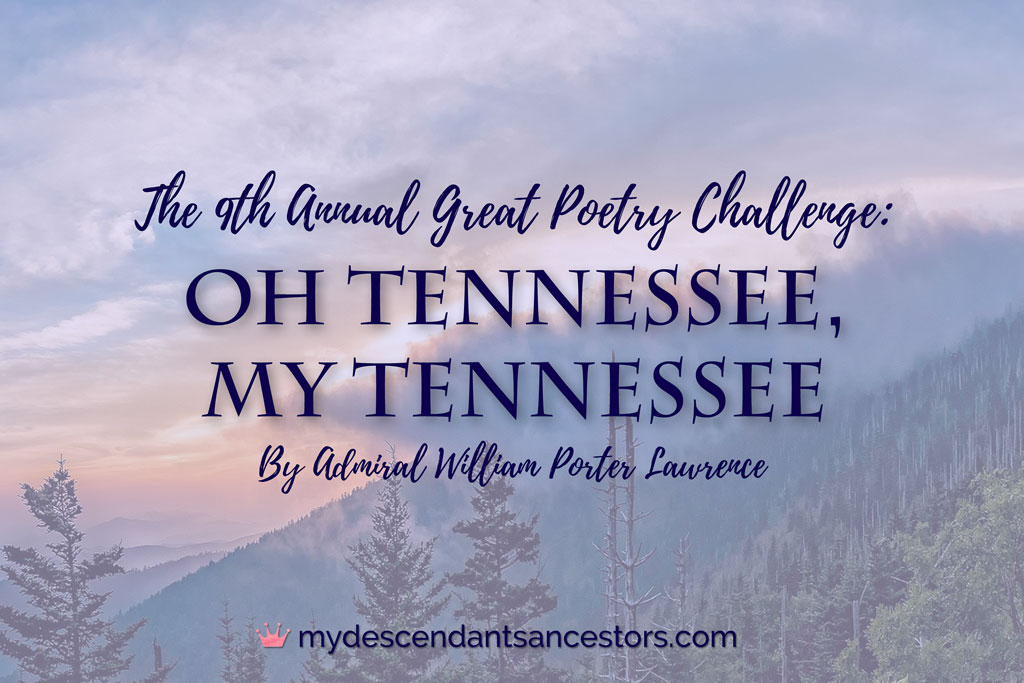 Oh, Tennessee
A good percentage of my paternal ancestors hailed from Tennessee. So, in honor of Bill West's "Ninth Annual Great Poetry Challenge," I am sharing "Oh Tennessee, My Tennessee."
From State Symbols USA:
Tennessee adopted "Oh Tennessee, My Tennessee" by Admiral William Porter Lawrence (a native of Nashville TN) as the official state poem in 1973…

Naval Admiral William Lawrence composed "Oh Tennessee, My Tennessee" while enduring a 60 day period of solitary confinement in a North Vietnamese prisoner of war camp. Lawrence spent a total of six years as a POW during the Vietnam War. This poem describes the love and longing he felt for his beautiful home state.
I love the imagery of this poem, especially the line, "Strong Folks of Pioneer Descent." I can picture my grandparents and great-grandparents in front of the old homestead, watching the sunset in the Great Smokey Mountains. 😊
Oh Tennessee, My Tennessee
Oh Tennessee, My Tennessee
What Love and Pride I Feel for Thee.
You Proud Ole State, the Volunteer,
Your Proud Traditions I Hold Dear.
I Revere Your Heroes
Who Bravely Fought our Country's Foes.
Renowned Statesmen, so Wise and Strong,
Who Served our Country Well and Long.
I Thrill at Thought of Mountains Grand;
Rolling Green Hills and Fertile Farm Land;
Earth Rich with Stone, Mineral and Ore;
Forests Dense and Wild Flowers Galore;
Powerful Rivers that Bring us Light;
Deep Lakes with Fish and Fowl in Flight;
Thriving Cities and Industries;
Fine Schools and Universities;
Strong Folks of Pioneer Descent,
Simple, Honest, and Reverent.
Beauty and Hospitality
Are the Hallmarks of Tennessee.
And O'er the World as I May Roam,
No Place Exceeds my Boyhood Home.
And Oh How Much I Long to See
My Native Land, My Tennessee.
~ Naval Admiral William Lawrence