The November Genealogy Blog Party: Thankful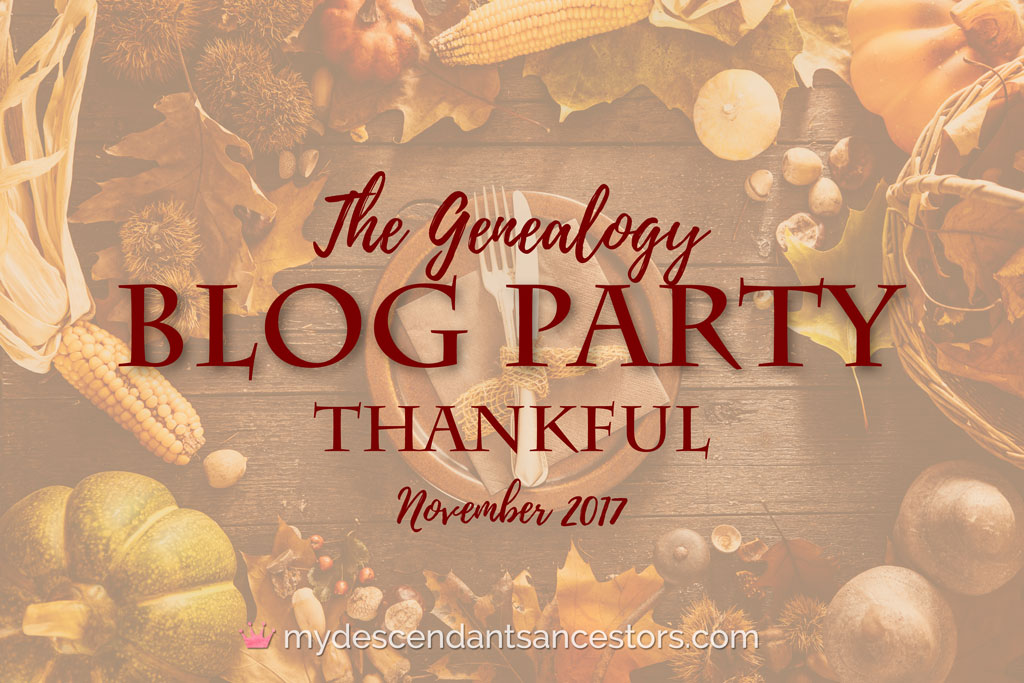 Giving Thanks
Thanksgiving is one of my favorite holidays. 🦃
It's not just the food or even the family gatherings. What I love most is the emphasis on stopping to give thanks and be grateful for what we've got.
So, with that in mind, the question for November is simple:
Q: What genealogy "resource" are you thankful for this year?
This "resource" can be almost anything, as long as it is genealogy-related. Examples include:
A website (free or paid)
A book
A specific library
Found items (i.e., a family Bible or family letters that were given to you)
A conference, seminar, webinar, or class you've attended
A person 
This is your opportunity to publicly say thanks to whoever – or whatever – you found to be most helpful in advancing your genealogy research this year. 
Be sure to tell us how this resource helped you and what you learned. Your success just might help someone else. 😊
Reminders:
📌 Each post must include at least one image.
📌 Previously published posts are acceptable. You don't have to reinvent the wheel to participate.
📌 When you are ready to join the party, click the blue "Add Link" button below to add your post.  🔽
Give genea-thanks this month. Join the #Genealogy Blog Party before 11/30!
Click To Tweet
Party Etiquette:
Bring a Friend – Tell your friends and followers about the Genealogy Blog Party by using Twitter, Facebook, Pinterest, Instagram, or whatever type(s) of social media you use. Social media sharing buttons are located at the bottom of this post.
Visit and comment on at least

3 other links

in the party (more is better). Parties are meant to be social events, and we can't be social without talking to each other!
Follow me on social media. Links are at the top of the sidebar and in the footer below.
Subscribe to the Newsletter. Newsletter subscribers receive advance notice of Genealogy Blog Party themes and other information.

 More Information:
What is The Genealogy Blog Party?
Read past Genealogy Blog Parties
Frequently Asked Questions (FAQs)
Grab a Badge!
Powered by
Loading InLinkz ...