The October Genealogy Blog Party: Through the Stones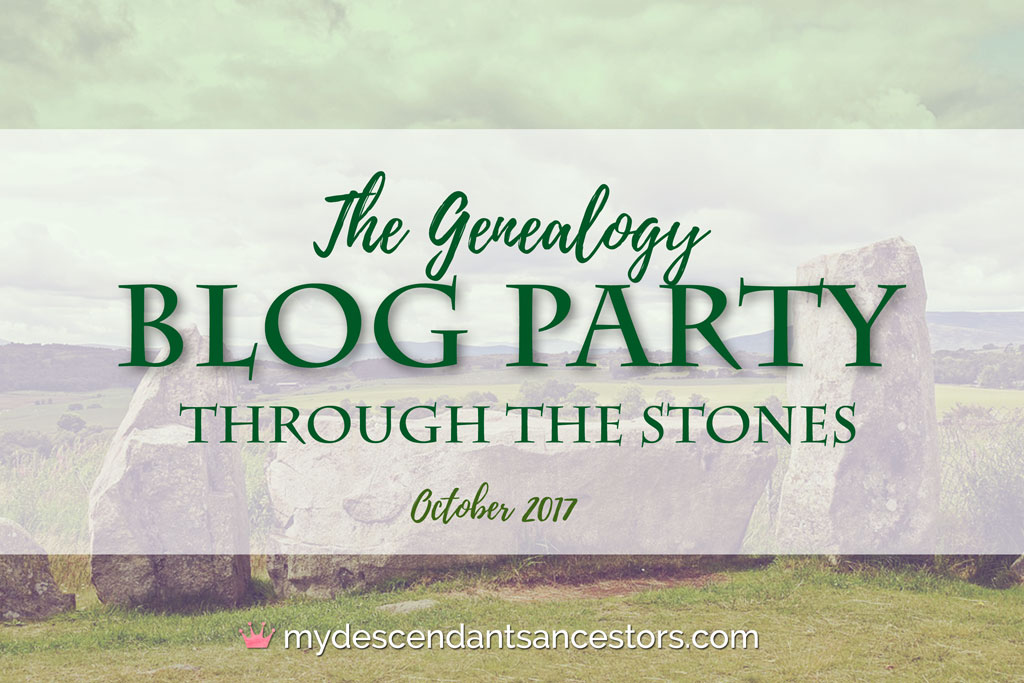 This post contains an affiliate link. Please see the disclosure statement at the bottom for more information.
Take a Trip Through the Stones
The show Outlander came back for a new season last month (Sunday nights on STARZ). Not only do I love this show — I'm a sucker for a man in a kilt — but I'm slowly working my way through the books (they're long but very good).
It would be accurate to say that I'm a big fan. 😊
 
For those of you who are unfamiliar with the books or the show, Outlander is basically a work of historical fiction (emphasis on the fiction) involving time travel, romance, and a bit of genealogy. This review from Publisher's Weekly sums it up in a nutshell:
English nurse Claire Beauchamp Randall and husband Frank take a second honeymoon in the Scottish Highlands in 1945. When Claire walks through a cleft stone in an ancient henge, she's somehow transported to 1743. She encounters Frank's evil ancestor, British captain Jonathan 'Black Jack' Randall, and is adopted by another clan. Claire nurses young soldier James Fraser, a gallant, merry redhead, and the two begin a romance, seeing each other through many perilous, swashbuckling adventures involving Black Jack. Scenes of the Highlanders' daily life blend poignant emotions with Scottish wit and humor. Eventually Sassenach (outlander) Claire finds a chance to return to 1945 and must choose between distant memories of Frank and her happy, uncomplicated existence with Jamie.
With that in mind, the question for October is:
Q: Imagine that you fell through the stone of an ancient henge and found yourself 200 years in the past. Tell us your story.
Where did you land (it doesn't have to be Scotland)?
Which ancestor(s) did you meet?
What did you learn?
BONUS: Will you go back home again?
Feel free to be as creative as you wish. This can be anything from a work of historical fiction to a simple biography of your ancestor(s). Just try to have fun with it!
Can't go back 200 years?
If you are new to genealogy, and/or your research doesn't take you back 200 years yet, that's totally fine. Just go back as far as you can.
Not all stone henges are alike. 😉
Reminders:
📌 Each post must include at least one image.
📌 Previously published posts are acceptable. You don't have to reinvent the wheel to participate.
📌 When you are ready to join the party, click the blue "Add Link" button below to add your post.  🔽
Fall through the stones and go back in time! Join the #Genealogy Blog Party before 10/31!
Click To Tweet
Party Etiquette:
Bring a Friend – Tell your friends and followers about the Genealogy Blog Party by using Twitter, Facebook, Pinterest, Instagram, or whatever type(s) of social media you use. Social media sharing buttons are located at the bottom of this post.
Visit and comment on at least

3 other links

in the party (more is better). Parties are meant to be social events, and we can't be social without talking to each other!
Follow me on social media. Links are at the top of the sidebar and in the footer below.
Subscribe to the Newsletter. Newsletter subscribers receive advance notice of Genealogy Blog Party themes and other information.
 More Information:
What is The Genealogy Blog Party?
Read past Genealogy Blog Parties
Frequently Asked Questions (FAQs)
Grab a Badge!
Powered by
Loading InLinkz ...
Disclosure: The content above contains affiliate links. This means that I may receive a small commission if you choose to purchase something from that link (including links to Amazon.com because I am a participant in the Amazon Services LLC Associates Program). Don't worry, it won't cost you anything. This small percentage just helps us keep the lights on and the coffee pot filled. I appreciate your support! For more, read my full Disclosure Statement.