Private Ancestors: How to Prune Them From Your Ancestry Tree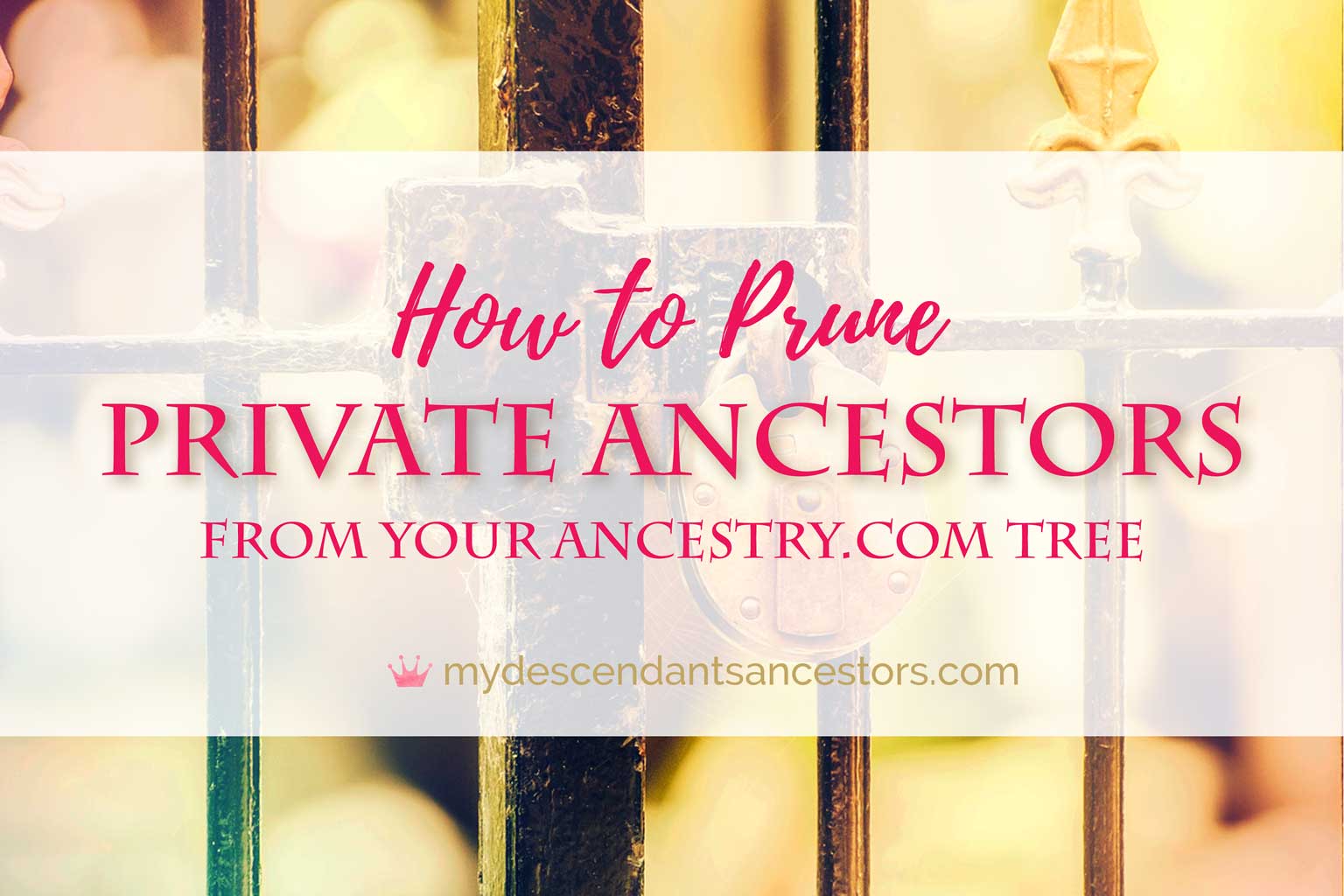 Oh Look, It's Private
As I was working this morning, my cell phone chimed that I had a notification from We're Related.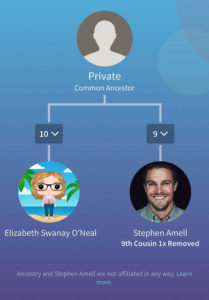 (For those of you who haven't tried it, We're Related is an app that combs through your Ancestry.com tree attempting to match you to other Ancestry users, as well as celebrities and famous people. It's kind of fun to see who pops up as a potential cousin. But these should always be viewed as clues, to be followed up with Actual Proof later.)
Anyway, I opened up the app to see who they'd found for me this time. Lookie: Canadian actor Stephen Amell is my 9th cousin 1x removed!
(Click any image to embiggen.)
Well gosh, I've got Canadian ancestors, so this could be interesting! I clicked through to see the relationship details.
Oh great. We're related through the common ancestor known as Private.
Who Was Private?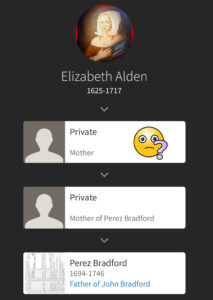 As you might have guessed from the name, there are few details to be found about Private.
But we do know one thing for sure: Private was prolific.
You see, I also share Private as a common ancestor with Winston Churchill, genealogy bloggers Michael John Neill and Diana Ritchie, and many others.
What complicates matters is that Private was not only a world/time traveler but also a gender-switcher!
In fact, I've seen Private pop up multiple times in the same tree in some kind of weird I'm-My-Own-Grandpa scenario.
And in one case, Private was her own mother. 
It's complicated.
How an Ancestor Becomes Private
Of course, there is no ancestor named Private.
But s/he keeps popping up all over. 😬
According to a 2012 Ancestry.com blog post, here's what is happening:
So how does Ancestry determine who's living and who's not in your family tree? This happens a couple of ways: First, when you add or edit a person on Ancestry.com you set whether the person is deceased or living—and we respect that setting. Secondly, if you add someone through a GEDCOM upload or link a tree from your Family Tree Maker software (where there's not a living/deceased setting), then we calculate the living status based on the following rules:

First we look for death information, anyone with death information (date, place, etc.) is dead—that one's easy.
If there's not death information entered we look for a birth date, anyone younger than 100 is considered living.
The tricky part is if we don't have birth or death information. In this case we look at the birth dates of close relatives to estimate a birthdate; if the birthdate is less than 100 years ago, they are considered to be living.
If all else fails and we can't make a safe estimate, we assume the person is living to err on the safe side.
In other words, even if a person in your tree is long-dead, there is still a chance that s/he could be showing up as Private in your public tree.
Here's how to fix that.
Step 1: View Your Tree as a Guest
Living family members and ancestors obviously need their privacy.
But there aren't too many reasons why a deceased ancestor – especially one who has been dead for a few centuries – would need to be private.
You can fix that.
But, to find the private ancestors, you need to see what your tree looks like to everyone-who-isn't-you. And to do that, you must view it as another user.
Now, to be honest, I searched and searched for an easy way to view my tree as a guest while I was still logged in, but couldn't find one.
So I got creative.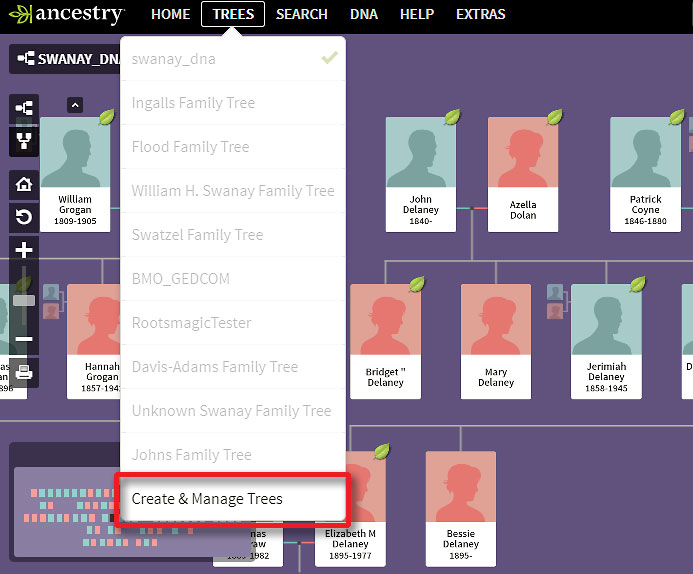 I invited myself to view my own tree as a guest. To do this, go to the Trees menu and select Create & Manage Trees.

Select the tree you want to check (if you have more than one), and click Invite family.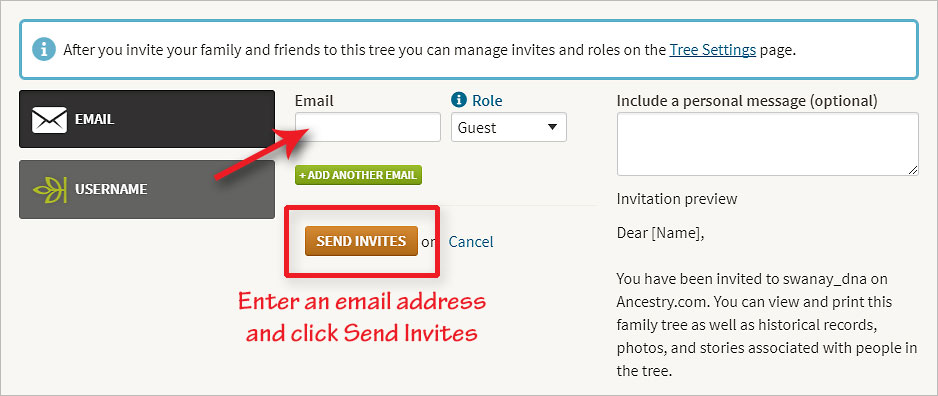 Select the option to send an invitation by email. Enter your email address in the box and click SEND INVITES.
NOTE: This needs to be a DIFFERENT email address than the one linked to your Ancestry account. If you only have one email address, you can always go to Gmail or any other free email service to create a new one.

To keep your alternate self from seeing living people, be sure to leave that box unchecked. 
Once you have completed the invitation process, log out of Ancestry.com. Go to your new/other email account and accept the invitation.
Now, log into Ancestry.com with your new account and track down those pesky private ancestors!
What I Found Surprised Me
I was HORRIFIED to discover that I had accidentally marked my own descendant as "deceased," and her information had been publicly viewable.
Thankfully, I hadn't posted much about her, so there wasn't much to see. I wouldn't have put her on my tree at all except for the fact that we've had her DNA tested. She is linked to my tree for that reason only.
NOTE: This method is also good for catching living relatives who may not have been properly privatized!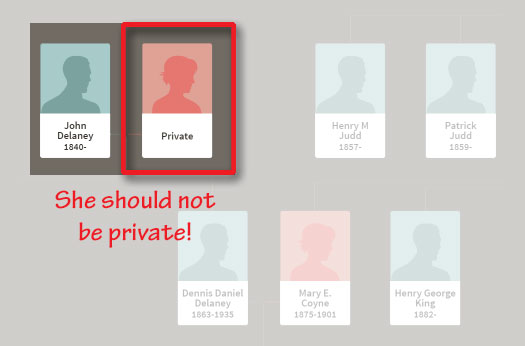 I also found a few long-dead ancestors who were showing as private.
As you can see above, John Delaney, born c. 1840, has a wife who is apparently still living. Either she has found the Fountain of Youth, or she was very, very young when they got married! 😮
However, the more likely scenario is that I've simply neglected to mark her as deceased.
Thankfully, there's an easy way to fix these errors.
Step 2: Do a Quick Edit to Change Status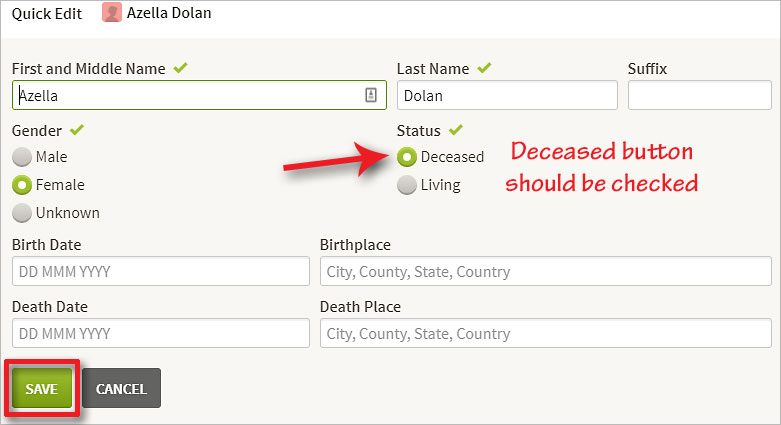 Once you are logged back into your regular Ancestry.com account, simply click on the person you want to edit and then click Quick Edit. Select the Deceased radio button under Status and click SAVE.
Or do the reverse, if a living ancestor wasn't marked private.
Conclusion
FACT: Private ancestors are the leading cause of We're Related-related rage. 😡
Ok, not really, but they definitely ARE frustrating.
Apps like We're Related are fun — and often good for a laugh — but don't completely discount them. They can provide CLUES to ancestors we may not have discovered yet.
And COUSINS!
So, make your cousins happy by keeping your Ancestry.com tree pruned of private ancestors who don't need to be private. 😊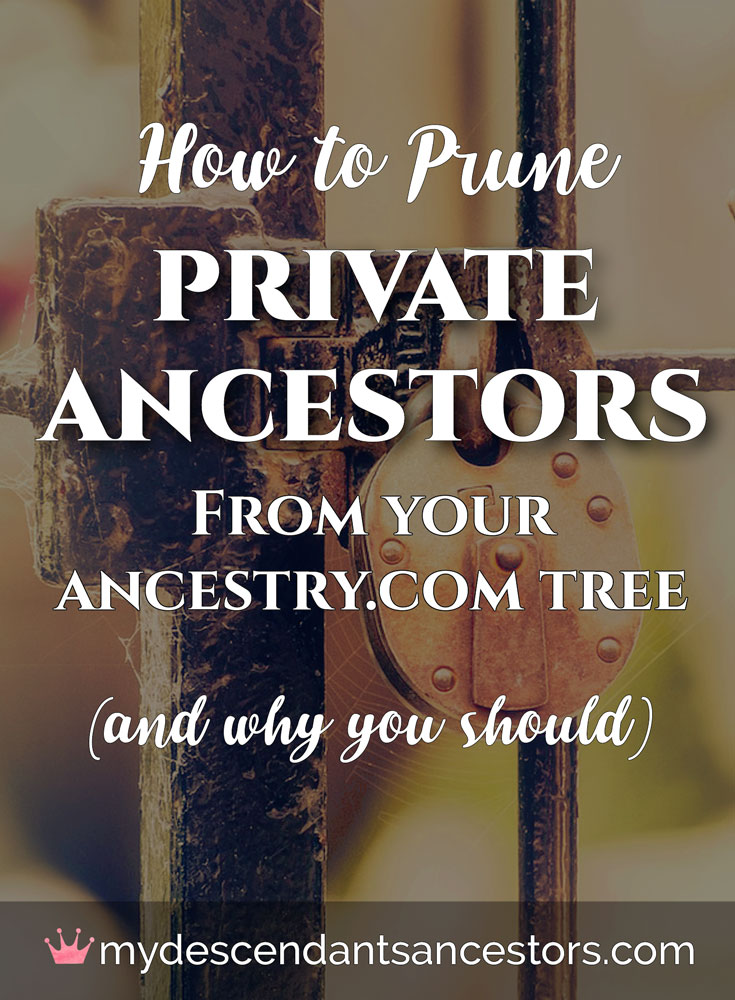 My Descendant's Ancestors is a participant in the Amazon Services LLC Associates Program, an affiliate advertising program designed to provide a means for us to earn fees by linking to Amazon.com and affiliated sites.