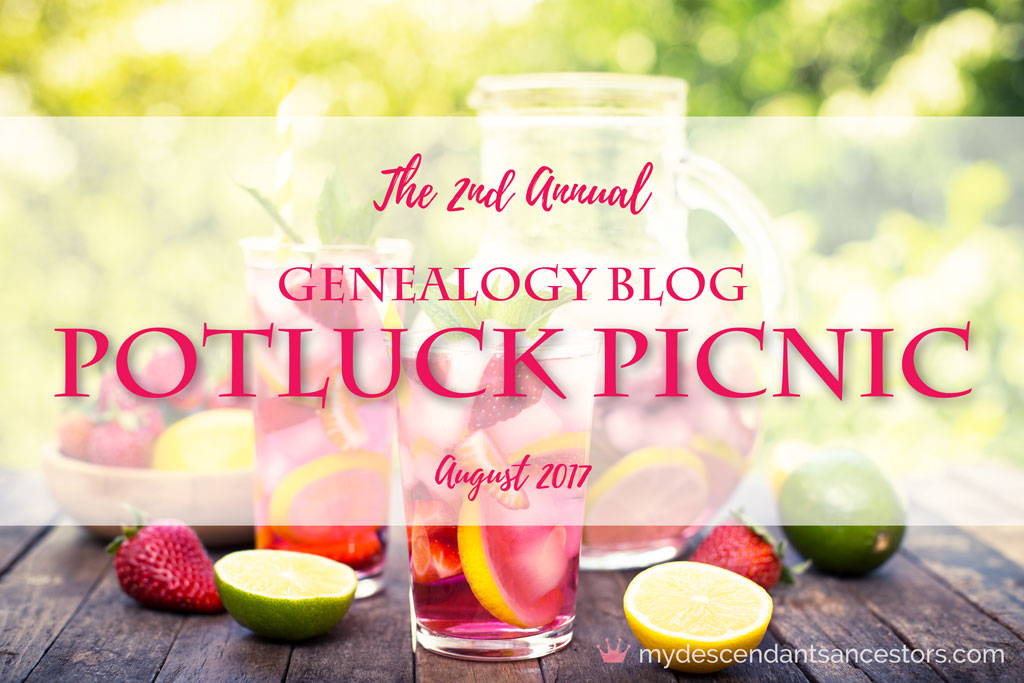 Grab your basket and come to the picnic
Last year, we had an old-fashioned, Blog Potluck Picnic, and I've decided to make it an annual summer event!
I love potluck gatherings. It's always a surprise to find out what everyone will bring. Sometimes, you get a great selection of delicious dishes. Other times, you get 12 different types of potato salad. 
But no matter what everyone brings, potlucks are always full of interesting food, fun, and friendship. 😊
What You Should Bring
Like every potluck, you are invited to bring a "dish" to share. And hopefully this one won't be too difficult for you to prepare:
Q: Tell us how you did it.
This is a broad topic that can cover just about anything genealogy-related. The only requirement is that you explain how you did it.
Examples include how you:
identified an old photo;
connected with living family members;
convinced Grandpa to tell you his war stories;
baked your great-grandma's rhubarb cake;
planned a family reunion;
fixed a problem with your genealogy database;
got your descendants interested in genealogy;
broke down a brick wall (i.e., case studies).
Be creative! Perhaps your post will help someone else who is looking for a similar solution.
📌 Each post must include at least one image.
📌 Not a blogger? Send your story to me, and I will share it as a guest post (NOTE: You must clearly indicate that you want your story shared and that you are giving me permission to do so).
📌 Previously published posts are acceptable. You don't have to reinvent the wheel to participate.
Tell us 'how you did it' at the #Genealogy Blog Potluck Picnic before August 31! #genealogy
Click To Tweet
When you are ready to join the party, click the blue "Add Link" button at the bottom of this post to add your post to the linkup. 
Party Etiquette:
Bring a Friend – Tell your friends and followers about the Genealogy Blog Party by using Twitter, Facebook, Pinterest, Instagram, or whatever type(s) of social media you use. Social media sharing buttons are located at the bottom of this post.
Visit and comment on at least

3 other links

in the party (more is better). Parties are meant to be social events, and we can't be social without talking to each other!
Follow me on social media. Links are below this post and in the footer.
Subscribe to the Newsletter. Newsletter subscribers receive advance notice of Genealogy Blog Party themes and other information. 
More Information:
What is The Genealogy Blog Party?
Read past Genealogy Blog Parties
Frequently Asked Questions (FAQs)
Grab a Badge!
Powered by
Loading InLinkz ...
Elizabeth O'Neal is a genealogist, freelance writer, educator, and web developer. An avid genealogist for three decades, Elizabeth writes the blog "My Descendant's Ancestors" (formerly "Little Bytes of Life"), where she shares family stories, technology and methodology tips, and hosts the monthly "Genealogy Blog Party." When not hunting for ancestors, she enjoys testing new software and social media platforms to find innovative ways to re-purpose them for genealogy.
Latest posts by Elizabeth O'Neal (see all)
(Visited 178 times, 1 visits today)
---
Also published on Medium.