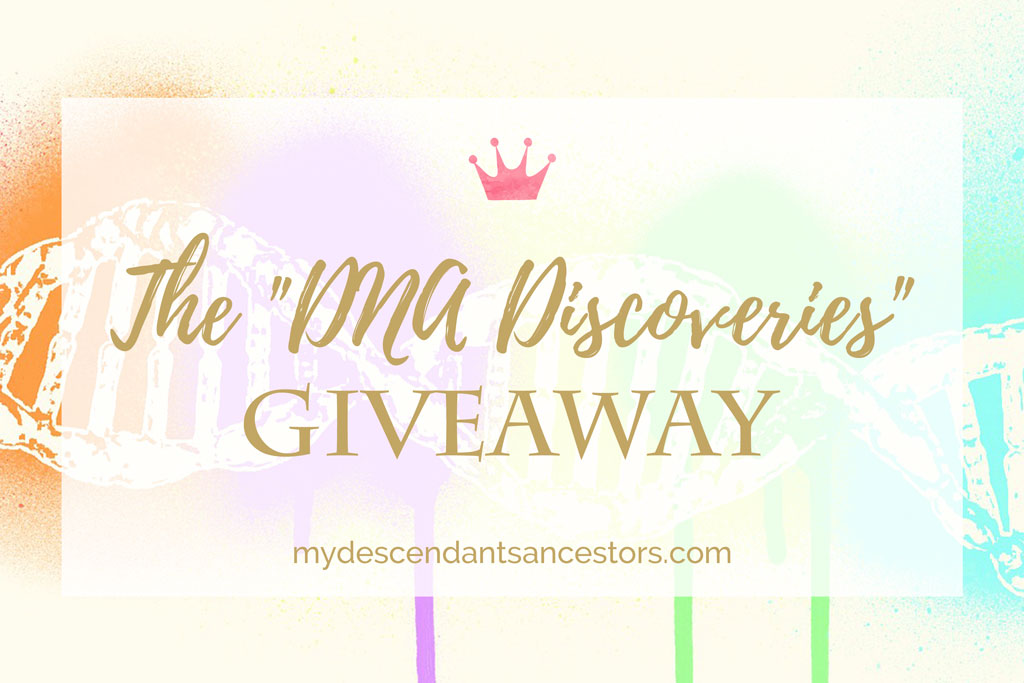 What sort of DNA discoveries have you made?
To coincide with this month's Genealogy Blog Party theme of DNA Discoveries, I am giving away a few items to enhance your study of genetic genealogy! 😀
One Winner Will Receive:
One (1) Ancestry DNA kit (a $79.00 value). Ancestry.com subscription is not included.
One (1) copy of The Family Tree Guide to DNA Testing and Genetic Genealogy by Blaine T. Bettinger, PhD, JD (a $19.99 value)
One (1) copy of Genetic Genealogy in Practice by Blaine T. Bettinger, PhD, JD, and Debbie Parker Wayne, CG, CGL (a $36.00 value).
Details:
Ancestry DNA Kit

Discover the family story your DNA can tell. Uncover your ethnic mix, discover distant relatives, and find new details about your unique family history with a simple DNA test.

The Family Tree Guide to DNA Testing and Genetic Genealogy by Blaine T. Bettinger

Discover the answers to your family history mysteries using the most-cutting edge tool available. This plain-English guide is a one-stop resource for how to use DNA testing for genealogy. Inside, you'll find guidance on what DNA tests are available, plus the methodologies and pros and cons of the three major testing companies and advice on choosing the right test to answer your specific genealogy questions. 

Genetic Genealogy in Practice by Blaine T. Bettinger and Debbie Parker Wayne

At their own pace, readers learn the basic concepts of genetic genealogy. They then build on that knowledge as they study the testing, analysis, and application of YDNA, X-DNA, mitochondrial DNA (mtDNA), and autosomal DNA (atDNA) to reach and support genealogical conclusions. Each chapter includes exercises with answer keys for hands-on practice.
About the Authors
Blaine Bettinger is an intellectual property attorney in Syracuse, New York. The author of The Genetic Genealogist blog, he is a genealogy educator, a trustee of the New York Genealogical and Biographical Society, and organizer of the Shared cM Project, a crowdsourced project examining the associations between genetic data and genealogical relationships.
Debbie Parker Wayne is a professional genealogist who has conducted research for individuals as well as for the PBS series "Finding Your Roots" with Henry Louis Gates Jr. and other television shows. She is an award-winning author, the coordinator for genetic genealogy institute courses, and the DNA Project Chair for the Texas State Genealogical Society.
Enter to Win
Use the official entry form below to enter the contest. Note that adding a post to the July Genealogy Blog Party is worth 3 entries this month:
If you are unfamiliar with what The Genealogy Blog Party is, please understand that it is what's called a blog "linkup." A linkup is where blog authors write a post pertaining to a specific topic on their individual blogs, and then "link the post up" to the main blog linkup page.
If you do not have a blog, but would like to share your story as part of the linkup, please send your story to me and I will be happy to publish it for you as a guest post. While I do appreciate reading your stories in the comments and via email, please be clear in your message that you would like to have your story published and give me permission to do so. Otherwise, I will think you are just sharing an interesting story with me! 😊
DNA Discoveries Giveaway Official Rules (abridged):
No purchase is necessary to enter or win.
The My Descendant's Ancestors "DNA Discoveries" Giveaway begins on 23 July 2017 at 12:00 a.m. PDT, and ends on 31 July 2017 at 11:59 p.m. PDT. No exceptions.
This giveaway is open to legal residents of the United States and Canada who are at least 18 years of age.
Enter online by using the official entry form (above).
Entries that do not follow the rules will be disqualified.
One (1) winner will be selected in a random drawing from among all eligible entries received throughout the promotion period.
The winner will be notified by email at the email address provided in the entry Information within 3 days following the random drawing. Winner must respond within 7 days of notification.
Click here for the complete list of Terms & Conditions.
Good luck to all! 🙂