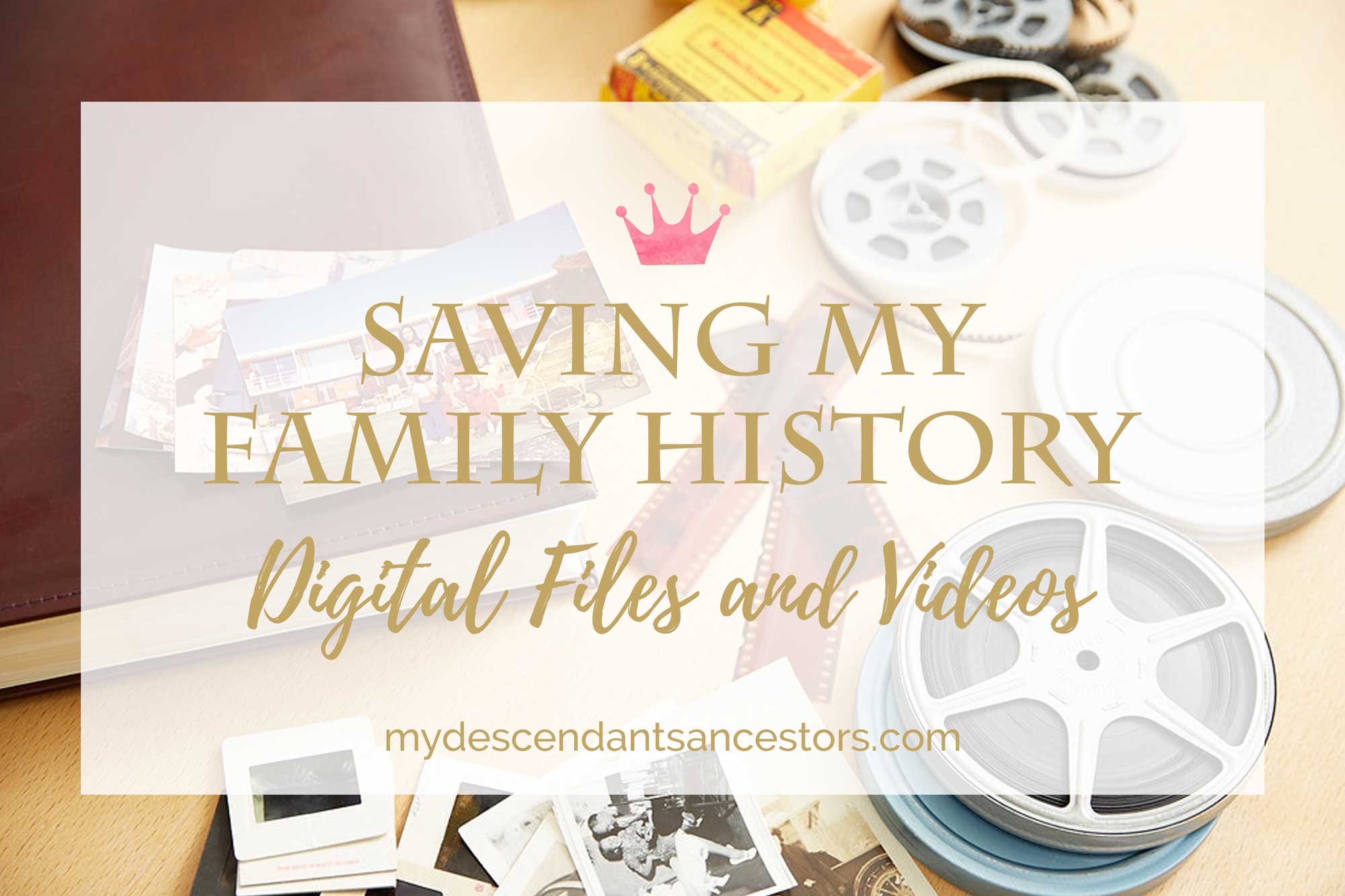 Custodians of the family history
As family historians, we are the Keepers of the Memories. We track the movements of our ancestors through time and place: their births, their relationships, their deaths, and hopefully a bit about how they lived their lives.
In many cases, we are also the Keepers of the Stuff. The family group sheets, books, and documents collected by previous family historians. The scrapbooks, the photos, the family movies. Even ephemera like dishes, cookbooks, clothes, and other household items.
Whether they came to us by purpose or by default, these items have been entrusted to our care. And we must preserve them for future generations.
I still have quite a lot to do as far as preserving my family history is concerned, but today I will share what little I have already accomplished, and why.
Why worry about preservation?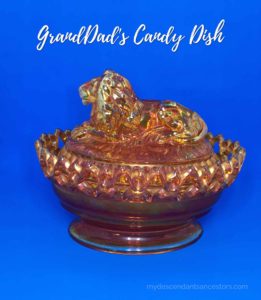 I believe that this subject is of particular importance to family historians, which is why I selected it as the topic for this month's Genealogy Blog Party and "Makeover Your Memories" Giveaway.
To be honest, I began thinking about it long and hard after doing a really stupid thing earlier this year: dropping my iPhone into the washing machine. 
The worst part of this story isn't that my phone was destroyed. The worst part is that I lost ALL OF THE PHOTOS I had taken over the past 2 years. 😭
Why? Because iCloud had stopped backing up my photos (and everything else, for that matter), and I was too cheap to pony up for the extra storage. Instead, I was using an app to manually back things up to my hard drive… but that took time out of my day, and I wound up procrastinating for much too long.
And then, POOF!
My photos were gone in the blink of a rinse cycle. I still cringe to think about it.
Backing up the backups
From that point on, I vowed to make sure that everything was not only preserved and properly stored, but in the case of digital files, backed up redundantly. In other words, in more than one place, and in more than one format:
My iPhone is backed up directly to my main computer's hard drive from iCloud (I try to check at least once a week to make sure that everything is working).
My internal hard drive is automatically backed up to an external hard drive.
My internal hard drive is automatically backed up to a Backblaze cloud storage account.
I've also done a "dump" of photos to private folders on Flickr, just in case any of the aforementioned precautions fail. Flickr is a free photo-sharing website that offers 1 TB of storage. It's not only useful for storing your photos, but also for sharing with friends and family members.
Additionally, I'm considering uploading my photos to Amazon Prime Photos. Amazon recently began offering free, unlimited photo storage to Prime members, and there is an app that will upload photos directly from your mobile device. I discovered that my descendant is already uploading Minecraft photos that she's taken with her Kindle, so at least I know that it works
I'd love to hear what digital storage options are working for you! 🙂
Moving 20th-century films into the 21st century
For many years, I have had several cans of reel-to-reel films in my possession and no idea what was on them. I have also amassed a good-sized collection of VHS tapes, as well as Hi8 tapes that were used in my old video recorder.
What these media have in common is that NONE of them are watchable any longer, owing to the fact that we don't have the equipment on which to watch them. 
Oh, and they're all deteriorating. Especially the VHS and Hi8. tapes, which, as I've mentioned before, are rapidly demagnetizing. I really don't want to lose these memories, and I want my descendant to have them in the future (despite her current lack of interest). 😬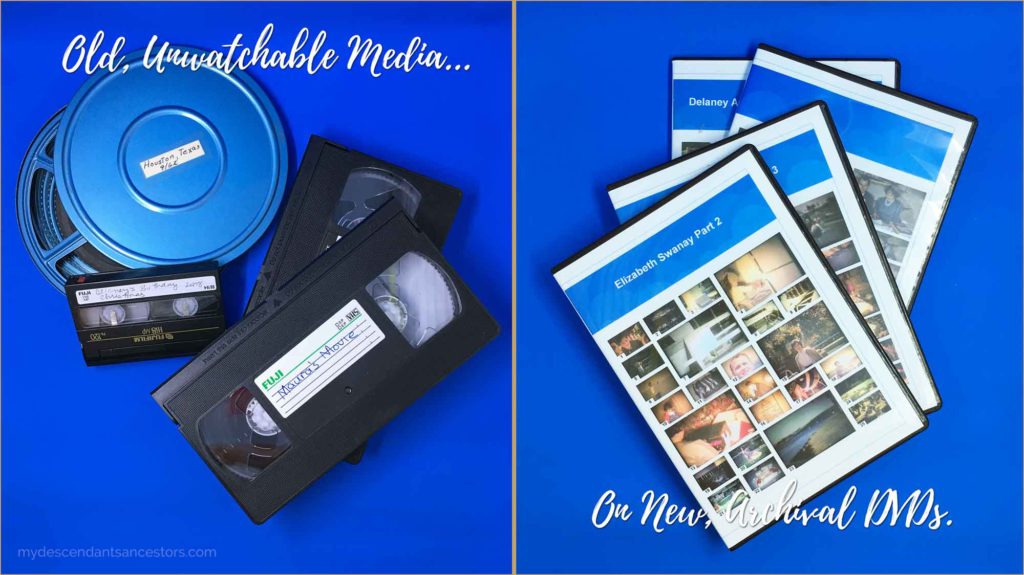 So… I sent the unwatchable media out to Legacy Republic to have it digitized. I had done my research before selecting this company and was I was impressed by their showing at RootsTech in 2016. I was so happy with the results!
What I got back is more than just DVDs.
I logged into my Family Legacy account (free online media storage) by accident one day and found my films were already online and digitized before I had received them back in the mail. I'm not sure if it was the unexpected shock of seeing the videos or of seeing the faces of my mother and other lost loved ones, but I sat and watched those videos for 2 hours… with tears streaming down my face. 
Below is a little trailer created from a 55- year-old reel-to-reel film that I found in my mother's hope chest. The footage was from my parents' wedding reception, as well as a couple of vacations they had taken with my aunt and uncle (love those curlers, Mom!). 
What's important to note here is that I had never seen ANY of this footage before.
And the truth is that I would never have seen it if I hadn't sent the films out for digitizing.
On another note: the Hi8 cartridges contained videos of my daughter's first days and months of life, including one of my favorite moments: her first-ever bout of the giggles (she had finally noticed the dog). I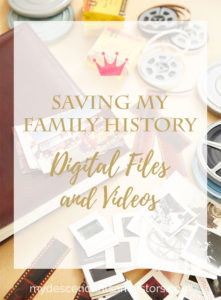 am embarrassed to say that my daughter had never seen any of these videos before because we no longer had the equipment on which to play them.
The moral of this story
I can't emphasize enough how important it is to bring your old media into the 21st century. Even some of your 21st-century media probably need to be updated (i.e., Hi8 tapes).
Don't let them waste away for another generation. Have a Family Movie night and enjoy them now!
Next time, I'll share how I'm preserving my genealogy research and our family photos. Spoilers: progress is slow. 🙄
---
Also published on Medium.