I am so happy to launch my rebranded website!
I've waited a long time to say that! 😀
As several of you guessed from my last post, the name of my rebranded website is My Descendant's Ancestors.
(Since I had already changed the domain name, it was a pretty easy guess, but still… kudos to those of you who figured it out!)
Why have I chosen this name?
I have one daughter, who I have referred to as "My Descendant" on social media for several years now. This was primarily done to protect her privacy, but the name kind of stuck. Much to my daughter's dismay, unfortunately. She is not amused and keeps asking me why I call her that.
Also, since I sometimes write about my husband's ancestors occasionally, as well as my own, these really are the stories of my daughter's (a.k.a. my descendant's) ancestors… despite the fact that she has absolutely no interest whatsoever in hearing about them.
Someday. Maybe. I keep hoping.
Little Bytes of Life is now My Descendant's Ancestors! Find out what's new! #genealogy #blogging
Click To Tweet
It's so…
PINK

!

For 9 1/2 years, I resisted going "too girly" with my theme. All the so-called "experts" said not to do it because readers prefer "neutral" themes. So I stayed neutral. And I hated it.

And now I've finally decided to go there.

After all, pink is my favorite color. And my descendant and I are both girls, so why not be girly?

Go pink or go home, right?  😎

And yes, my logo is a crown. I would love to say it's because I'm descended from royalty, but alas, that doesn't seem to be the case. The primary reason for the crown is because I have called my daughter "Princess" since she was a baby. So the crown is symbolic of her: she is still my "little princess." 
For the record, much of my old content is still here, but I have archived many of the posts that are no longer relevant. And I am still doing quite a bit of housekeeping, such as reorganizing old content, fixing broken links, etc., etc. If you see any weird stuff or glaring errors, please feel free to let me know.
Let's get this party started!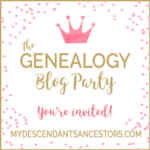 As promised, the Genealogy Blog Party is returning this month. My plan was to get it posted last week, but… I got super busy working on another rather unexpected project, and unfortunately, I did not get the post done. Look for those details by tomorrow (Tuesday), at the latest.
In the meantime, please feel free to grab the NEW Genealogy Blog Party badge. It's pink, too. 😉
More to come
I will be adding a few new types of content, including book and product reviews, as well as sharing some amazing found family treasures that I will hopefully be able to reunite with families who will appreciate them.
In addition, I will be celebrating the launch of my rebranded blog — along with my upcoming 10-year blogiversary — with giveaways every month through October. Stay tuned for details! 
Last, but definitely not least, I want to say a big THANK YOU to all of you readers, especially those of you who have stuck around since the beginning. You guys are truly amazing, intelligent, wonderful people, and I have learned so much from you. 
P.S. If you have listed my blog in your blogroll, I would greatly appreciate it if you would update the link to this new one. Thank you!