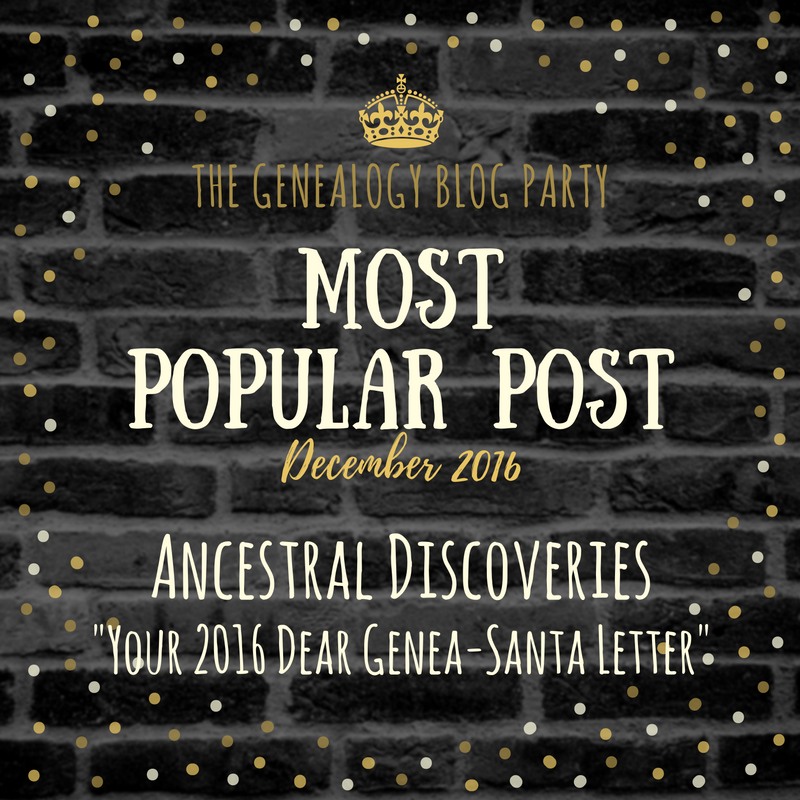 December's Most Popular Post
The votes are in for the December Genealogy Blog Party! It was very close this time, but I am happy to report that the top vote-getter was "Saturday Night Genealogy Fun: Your 2016 Dear Genea-Santa Letter" by Janice M. Sellers of Ancestral Discoveries. 
Janice was a very good girl in 2016, attending many genealogy conferences and educational opportunities, as well as giving back through volunteer work. She has quite a few requests on her wish list, but here is her #1:
My top priority is still that I want to help my now 91-year-old aunt find and make contact with Raymond Lawrence Sellers, the son she gave up for adoption 71 years ago. We haven't made much progress since last year. She did a DNA test through Family Tree DNA, the results of which I've uploaded to GEDMatch. (Unfortunately, she wasn't able to manufacture enough saliva for a successful AncestryDNA test, so we aren't able to search directly in that pool.) The bad news is that she doesn't show any close matches besides her siblings, her son, and me (i.e., family members we already knew had tested). It's possible that her son didn't have any descendants, or that absolutely none of them has decided to try the whole DNA thing. It is so important for her to find him, so I'm really hoping for this one. It's the number one item on my list.
Hopefully, Genea-Santa will make this wish come true in 2017!
Be sure to visit Janice's blog and the other blogs in the December Genealogy Blog Party. Many thanks to everyone who wrote a post for this round and to all who voted!