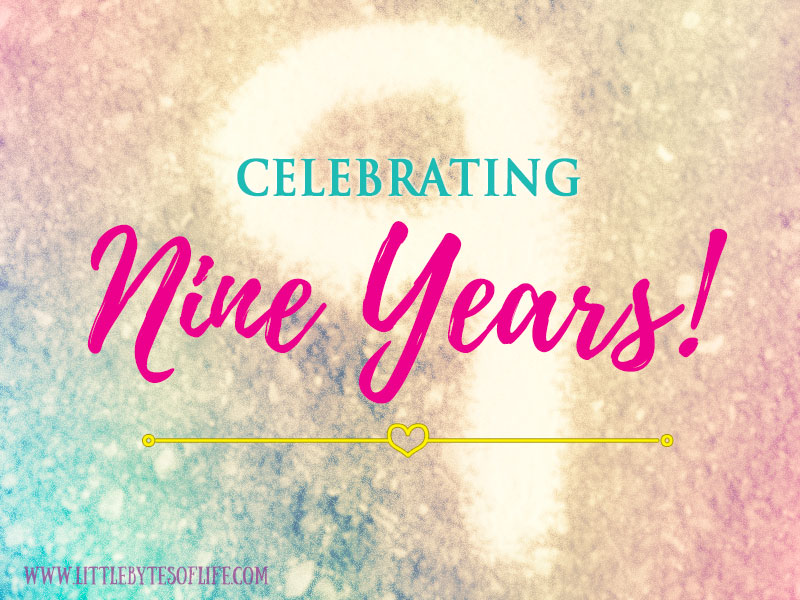 It's my ninth blogiversary!
Wow. 
Nine years ago today, I published my first blog post. It was fairly terrible, not to mention uninspired.
While I'll admit that I had no idea what I was doing, I definitely knew why I was doing it: I was a stay-at-home mom with a working husband, no family nearby, and a 1-year-old daughter to care for.
And while my descendant was very cute and sweet (still is), and I was fortunate to be able to stay at home with her… I really wanted to speak grown-up with somebody – anybody – who would listen.
Even the deep echoes of cyberspace.
The rise and fall of a mommy blogger.
For months, I had been reading the blogs of several popular "mommy bloggers." You know, moms who blog about mom stuff.
So I thought, "Hey, I can be a mommy blogger!" I mean, anyone can write about the thrill of peppermint mocha season, or how they are emotionally scarring their kid for life. Or wallow in self-pity about being sick with a young child in the house.
In fact, life as a SAHM was so full of excitement that I could hardly find time to write about it.
Good times.
Sadly, I hit a new low when I wrote about the time I bought chocolate milk that was made from dairy instead of soy. 🙄 
At that point, I knew that mommy blogging was not for me.
 
You mean, people blog about genealogy?
So one day while I was surfing the 'net for new blogs to read, I stumbled across Randy Seaver's Genea-Musings. Randy was happily blogging away about – get this – GENEALOGY like it was a perfectly normal thing to do.
I was stunned. People actually blogged about GENEALOGY? 😯 
I had been a genealogist for almost 20 years, but it had never occurred to me to BLOG about it.
What was even more surprising was that people were READING blogs about genealogy!
Although, at that time, there weren't many to read.
Aside from Randy, there were only a handful of people blogging about genealogy in 2007. Certainly nowhere near the 3,000+ listed today on Geneabloggers. In fact, Geneabloggers wasn't even around back in 2007.
Just a few trailblazers, dropping "cousin bait" here and there, sharing stories of their ancestors.
And to quote the 9th Doctor, "It was fantastic!"
The times, they are a-changin'.
While in some ways it "seems like only yesterday," so much has changed since 2007.
Most of the changes have been really good, like better and easier blogging platforms, for instance.
But I miss the sense of community we had back in the day. Even though most of us had never met in person, we weren't just a group of bloggers. We were a group of friends.
And with so many genealogy bloggers out there now, you would think that each of our blogs would be overflowing with comments and encouraging words, right?
They're not.
Perhaps this is due to the rise of other forms of social media. It is quicker and easier to share a link on Facebook or to retweet something cool on Twitter. And it's an inconvenience to have to click over to a blog from your feed reader or email just to leave a comment.
We're all short on time. There is no way that any of us could read the posts of 3,000+ genealogy bloggers.
But I'll bet we have time to read one.
So make a difference to

one

.
Remember the Starfish Story? The one about the man picking up the starfish on the beach and throwing them back into the ocean, one at a time?
"Made a difference to that one."
It's one of my favorites.
And though we don't usually exchange gifts on blogiversaries, I'm going to be bold and make a request:
Please read somebody's blog today. And leave a comment.
Just one.
It won't take much time out of your day.
But it will make a difference to that blogger, I promise.
Thank you, and a secret.
THANK YOU to everyone who has visited, commented on, liked, followed, etc., my blog over the past 9 years. Your support, friendship, and encouragement have made a difference to me.
Here's the secret: I've always hated the name of my blog. For. Nine. Years. 🙁
Why did I pick it? I have no idea. I think it had something to do with the fact that I thought I was going to be a mommy blogger, and my family and friends thought I was a bit of a computer nerd. Little bytes (bites) of life. Short stories about daily life. Get it?
Yeah, me neither. But it stuck.
So, I'm finally getting ready to re-brand, hopefully before the end of the year. I've dropped a few little hints in this post. 😉
Here's to another year of blogging!
NOTE: Little Bytes of Life officially became My Descendant's Ancestors in June 2017.
Image of my original site from June 2008 courtesy of the Wayback Machine.