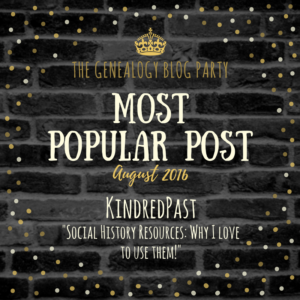 Most Popular Post
The votes are in for the August Genealogy Blog Party, and I am pleased to report that the top vote-getter was "Social History Resources: Why I love to use them!" by Sue of KindredPast. 
Sue offers some great sources for adding social history to your genealogy stories. To quote her, "I went with a subject that I love and that is using social history to add flesh to the bones of our ancestors." This is so important, not only for making our family stories more interesting, but also for helping us understand what our ancestors lives must have been like.
Be sure to visit Sue's blog, as well as all the other blogs in the August GBP, for some wonderful resources to enhance your research!
Many thanks to everyone who wrote a post for this round and to all who voted! 😀