one.
"Video: Why People Never Smiled in Old Photos," by Michael Zhang for PetaPixel:
Here's a 3-minute video that explores why you almost never see portraits of smiling people from the early days of photography.
two.
"Generation saga: Relatives of Annie Moore traced," by Roche for The Irish Times:
She's been the symbol of generations of Irish emigrants full of hope leaving home to carve out a new life in America. But it is only now – almost 125 years after she became the first person to pass through Ellis Island in New York – that Annie Moore's relatives in Ireland have been traced.
three.
"Thanks to DNA ancestry project, Mainers with Irish ties find family," by Kelley Bouchard for Portland Press Herald:
Started in 2011, the DNA project is sponsored by the Maine Irish Heritage Center in Portland and overseen by several volunteers, including Gellerson. Collectively, they have spent thousands of hours and their own dollars developing what is essentially a massive family tree of Irish immigrants who came to Maine in the wake of the Industrial Revolution and the Great Famine of 1845-1852.
four.
"Why I'm Proud to Be a Daughter of the American Revolution in the 21st Century," by Cynthia Moore for Town&Country:
Who joins the Daughters of the American Revolution in this day and age? Plenty of women. Access to genealogical records is more readily available than ever before, so the group is growing in size and diversity. We're not all thin-lipped white women with our noses in the air.
five.
"Waldoboro funeral home extracts DNA from deceased for families," by Jim Keithley for WMTW.com:
CG Labs, based in Ontario, Canada, has announced a relationship with a Maine funeral home that will provide the extraction of DNA from the deceased.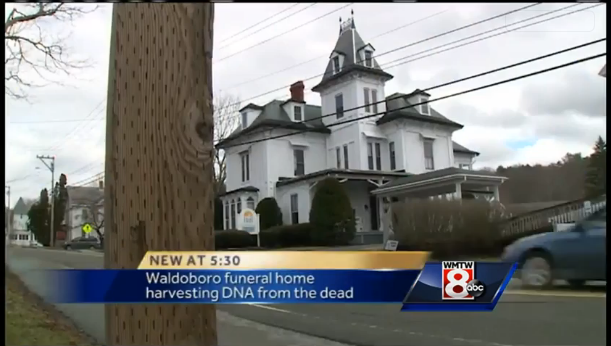 six.
seven.
"Turning hard-to-read cursive into computer type," by John Laidler for The Boston Globe:
Now a nearly completed initiative by the Norfolk County registry is promising to make it much easier for modern readers to decipher the contents of the Adams deed and other old land records. In what officials say is the first project of its kind in New England, the registry in Dedham is transcribing into type all the county's handwritten deeds from the time of its founding in 1793 to 1900, when the office switched to typing its documents.
eight.
"'Hugely important' iron age remains found at Yorkshire site," by Nazia Parveen for The Guardian:
Almost 2,000 years after being buried, the remarkably well-preserved remains of 150 skeletons and their personal possessions have been discovered in a small market town at the foot of the Yorkshire Wolds.

The remains of the burial ground that contained skeletons of people from the middle-iron age Arras culture in Pocklington, east Yorkshire is being hailed as one of the largest and most significant iron age findings of recent times.
nine.
"Appleton police trying to identify officer in historic photo," by Sari Soffer for WBAY.com:
Appleton police are looking for your help identifying a man — not a suspect this time — but an officer from the early 1900s..
ten.
The many shapes and sizes of Catwalk.