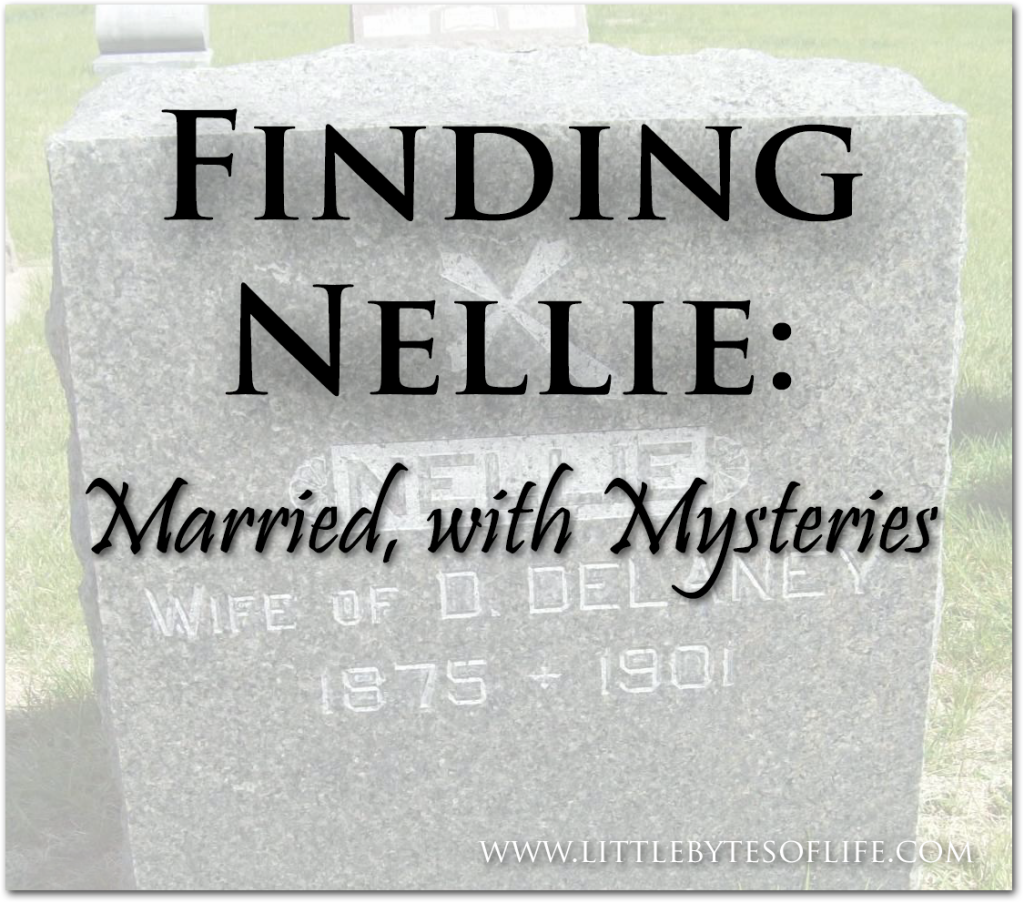 Read Part 1 – Finding Nellie: Beginning With the End
Nellie in the 1900 U.S Census
When I started researching this family, maybe 20 years or so ago, one of the first things I found was the 1900 U.S. census.1 At the time, I was actually looking for my great-grandmother, Elizabeth "Bessie" Delaney, and I found her living in Lincoln, Nebraska, with her parents Dennis (a.k.a. Daniel) and Nellie Delaney and her little brother Richard. I didn't appreciate it at the time, but they were living at 943 U Street, the same address where Nellie died. (click any image to embiggen)

As you can see, Nellie is listed as the wife of Dennis Delaney, having been born in Illinois in what looks like "Mch" – which I have always assumed to mean "March" – 1873. And while I don't claim to be a math whiz, it seems to me that if Nellie was born in March 1873, she would actually have been 27 years old as of June 1, 1900, the official date of enumeration.2
Dennis and Nellie are noted as having been married for 5 years. Nellie has had 2 children, both of which are living.
Mysteries in the Marriage
About a year after I wrote "Beam Me Up, Scotty," I learned that the Lincoln Lancaster County Genealogical Society had posted several databases, including an index of marriages for various dates between 1866-1955. I was thrilled to find Nellie and Daniel (a.k.a. Dennis) listed as having been married on 12 November 1894, which surprisingly jives with the math of the 1900 U.S. census.
I eventually got around to ordering a copy of the actual license from the Nebraska State Historical Society, part of which you can see below, marked up by me.3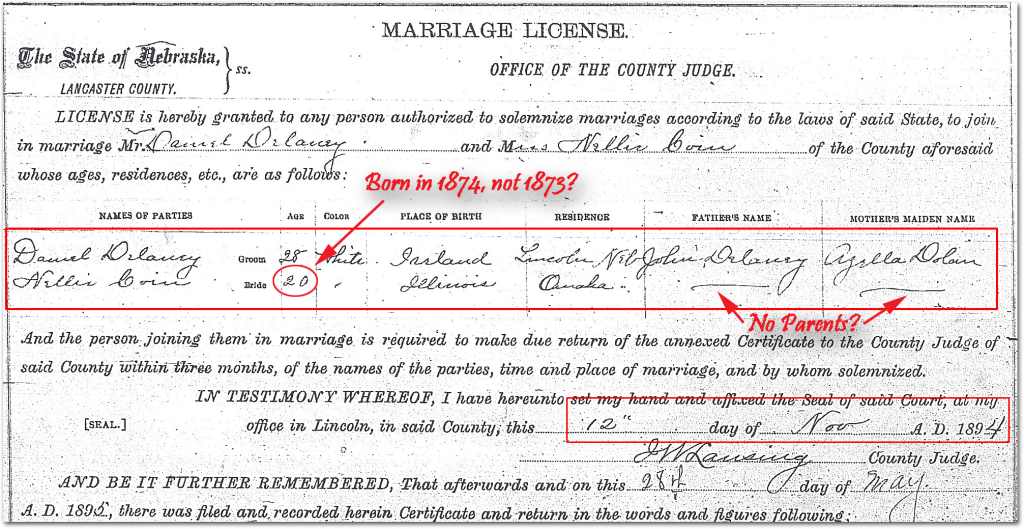 Nellie's age is given as 20 years old. Since the paperwork was filled out in November 1894, and her birthday would have been in March, this would make her a year younger than what was stated in the 1900 U.S. census. Since the marriage license was filled out nearly 5 years before the 1900 census, and presumably Nellie was aware of what was written, I think we can kinda sorta assume her birth year to be 1874 (and yes, I know what happens when we "assume"). The age of consent at that time in Nebraska was 18 years for females without parental permission,4  so I don't think there would have be motivation to lie about her age.
You may recall that the year of birth on Nellie's grave marker is 1875, further complicating the matter. Perhaps she actually didn't know her own year of birth?
Also worth noting is that Nellie's parents aren't named on the application, while Daniel's parents are. Was Nellie an orphan who didn't know the names of her own parents? Did Daniel, who I'm guessing provided information for the license, simply not remember their names? Or was there some sort of family drama that caused Nellie to not want to associate with her family?
This will be important later.
Time Travel or Typo?
At the bottom of the page under the Marriage License is the Certificate of Marriage. And it just wouldn't be fun if this part didn't also present a conundrum. As you can see, P. S. McShane certified on 10 May 1895 that he "duly joined in marriage Mr. Daniel Delaney and Miss Nellie Coin" on 14 November 1895.

Now, unless Mr. McShane had his very own TARDIS, I'm pretty sure he was not able to go forward in time to perform that marriage, and then back again to certify that he did it. Or was going to do it.
Time travel is confusing.
Instead, I think we can probably explain the marriage date confusion as one of those I-Can't-Remember-What-Year-It-Is mistakes like most people make when they write checks after a new year begins. Well, I do, anyway.
Groom AND Witness?
What's more of a head-scratcher is the people who reportedly witnessed the marriage: Mary Delaney and Dan Delaney. You read that right.
Family lore says that Daniel had a sister named Mary, but that she supposedly "went to Pittsburgh."5  To be honest, I know absolutely nothing about Mary. Maybe she was in Nebraska, witnessed the marriage, and then went to Pittsburgh? I have no idea.
On the other hand, I know of no other "Dan Delaney" than the groom in this marriage.
So, of course, this made me wonder if it was legal at the time for one to witness one's own marriage. According to the Compiled Statues, 1885, for Nebraska:6
In the solemnization of marriage no particular form is required, except that the parties must solemnly declare, in the presence of the magistrate or minister and the attending witnesses, that they take each other as husband and wife; and in any case there must be at least two witnesses, besides the minister or magistrate, present at the ceremony. When solemnized by a religious society it is according to the rites and customs of such society.
Emphasis mine.
Could Dan Delaney, the witness, be the same person as Daniel Delaney, the groom? Or is there another Dan Delaney lurking around out there somewhere, and I just haven't found him yet? 
My Thoughts So Far
I can't help but wonder if this marriage wasn't rushed into, for some reason.
The lack of one witness (assuming witness Dan Delaney was also the groom), Nellie's parents' names missing from the marriage license (for reasons I'll get into in another post)… plus, the marriage was held just two days after applying for the license, which I know was not uncommon, but still makes me go, "Hmmm."
According to the 1900 U.S. census, Nellie had only had 2 children, and both were living, so I don't think she was "in a family way" when she married Daniel… unless the census informant didn't know any different.
These ancestors definitely keep me guessing!

Read Finding Nellie Part I: Beginning With the End
---
Sources