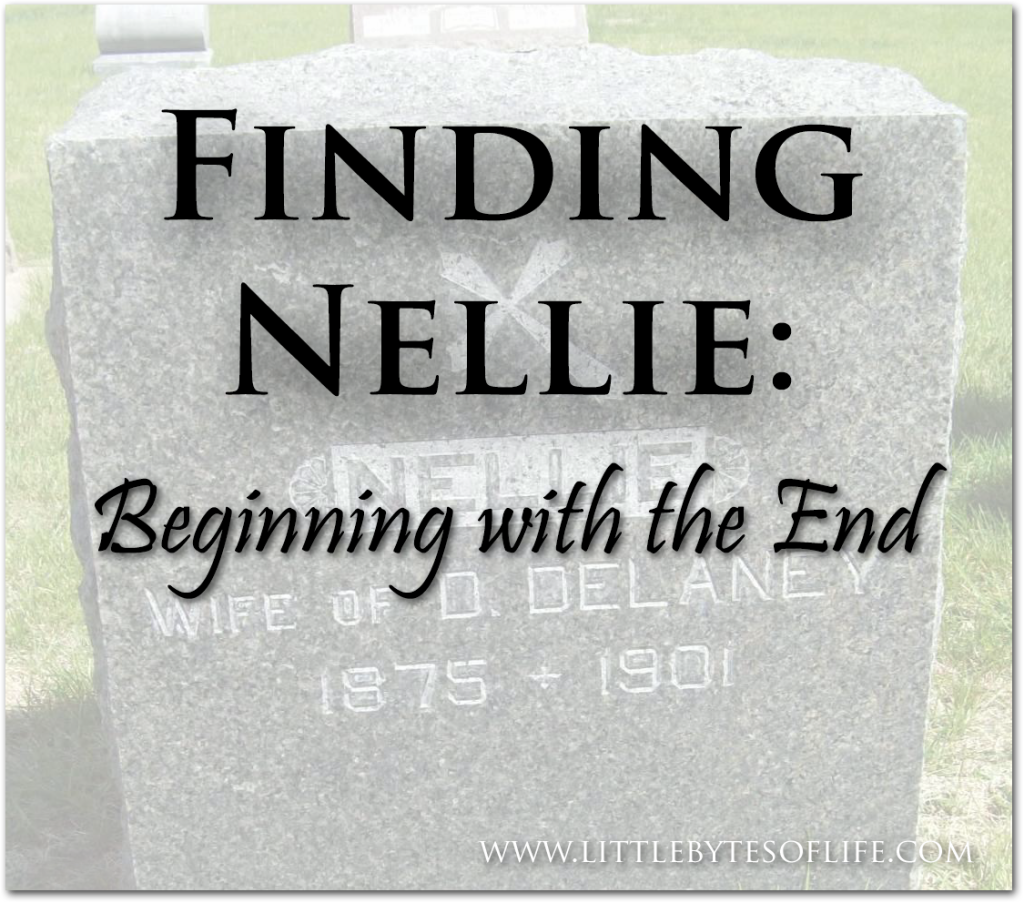 Beginning with the End
Back in early 2008, I wrote a post titled "Beam Me Up, Scotty," in which I lamented the fact that my maternal ancestors must have been beamed to Earth from The Mother Ship because they left almost no trace of themselves anywhere.
I received several comments on the post, the most helpful of which was made by fellow blogger Charley "Apple" Grabowski. Apple had done a bit of sleuthing for me, and in the process, found a few interesting newspaper articles that I had previously missed. (I blame the busy toddler I was caring for at the time. Or Ancestry.com's kooky search engine.)
Using these and other clues, I have slowly chipped away at the mystery of this family. There is still plenty more to keep me busy, but I am so glad to know that maybe – just maybe – these ancestors really were Earthlings after all. 🙂
So, working backward, here is some of what I have learned about my great-great grandmother, Nellie (Coyne) Delaney's short life.
The Death of Nellie (Coyne) Delaney
My grandmother's cousin (now deceased) had already provided the clue that Nellie died in 1901, but she did not know exactly when, why, or where Nellie was buried. In the "Grandma's Memories" journal I gave to my grandmother a few years before she died, my grandmother indicated that Nellie died in childbirth. I have yet to verify that bit of information, but at least I can confirm Nellie's date of death and burial location.
One of newspaper articles found by Apple was a death notice for "Mrs. D. Delaney," which was published in The Nebraska State Journal on 13 February 1901.1

I knew this was "my" Nellie because her she was married to Dennis (or Daniel?) Delaney, and 943 U Street was the address at which the family was living when the 1900 U.S. census – my only previous information about this family – was enumerated. Based on the article's date of publication, I now knew that Nellie had died at her home on 12 February 1901. Whether or not she died during childbirth remains to be proven. I really hope that story was not true.
Nellie's Burial
The following day, Nellie's funeral notice was published.2

What was helpful in this article – aside from her full name, her husband's name, and her address – was the information that she was taken to Harvard for burial, thus keeping me from fruitless searches of the many cemeteries in Lincoln!
Since Harvard is in Clay County, I paid a visit to the Clay County, Nebraska, GenWeb page to see what I could find out about cemeteries in that town. I learned that the Adams County Historical Society has a copy of grave marker transcriptions from the Harvard Cemetery, so I fired off an email asking if Nellie was found on any of their lists. In a couple of days, I had the answer: Nellie is indeed buried in Harvard Cemetery, along with her brother- and sister-in-law, Jeremiah and Zella Delaney, as well as their infant son Charles. Alas, no sign of her husband Dennis (or Daniel?).
I had to see where she was buried, even if only virtually, so I added a memorial for Nellie on Find A Grave and made a photo request. Within a couple of months, a kind volunteer posted a photo.3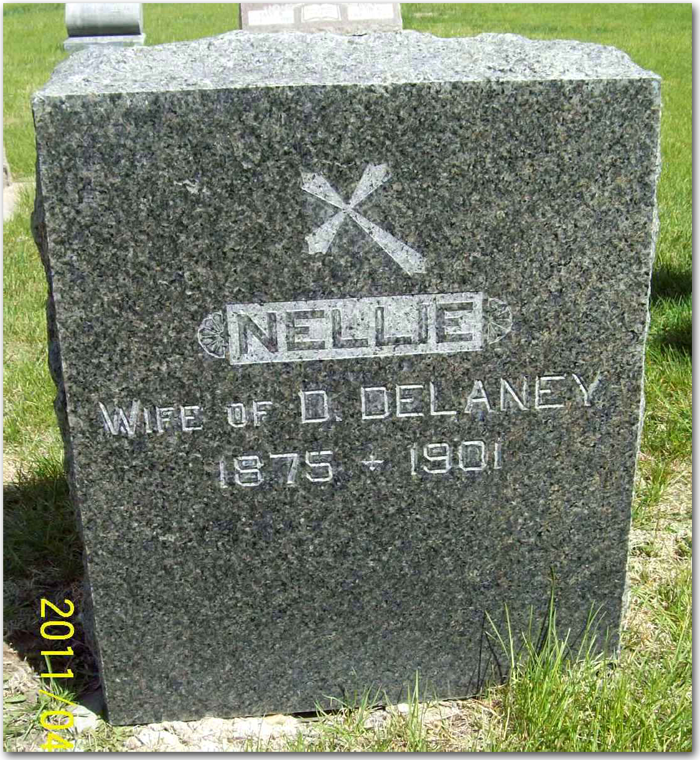 Nearly 25 years of searching for Nellie, and I had found her final resting place, at last. I cried (I'm a big sap like that).

Read part 2: Finding Nellie Part 2: Married, with Mysteries
---
Sources
 "Personal," The (Lincoln) Nebraska State Journal, 13 February 1901, p. 6, col. 2, death notice of Mrs. D. Delaney; Ancestry.com (http://www.ancestry.com : accessed 22 November 2015). ↩
"People You Know," The (Lincoln) Nebraska State Journal, 14 February 1901, p. 6, col. 2, funeral notice of Nellie Delaney; Ancestry.com (http://www.ancestry.com : accessed 22 November 2015). ↩
 Find A Grave, digital images (http:/www.findagrave.com : accessed 4 April 2015), photograph by Peggy Bargen Duey #46873059, grave marker for Nellie Delaney (1875-1901), memorial #66007620, Harvard Cemetery, Harvard, Clay County, Nebraska. ↩