When I moved my blog from Blogger to WordPress a few years ago, I made the critical error of not redirecting my domain quickly enough, so about eleventy-zillion of my links are now going to error pages. How do I know this? I installed the Broken Link Checker plugin.
Day after day, this awesome tool does the tedious task of crawling my blog for broken links, so I won't have to. And every 3 days, it emails me with a list of more broken links to be fixed (345, at present count, ugh). This task would have taken me forever to do on my own, post by post. I know; it's going to take me forever as it is, but at least I know exactly where to look.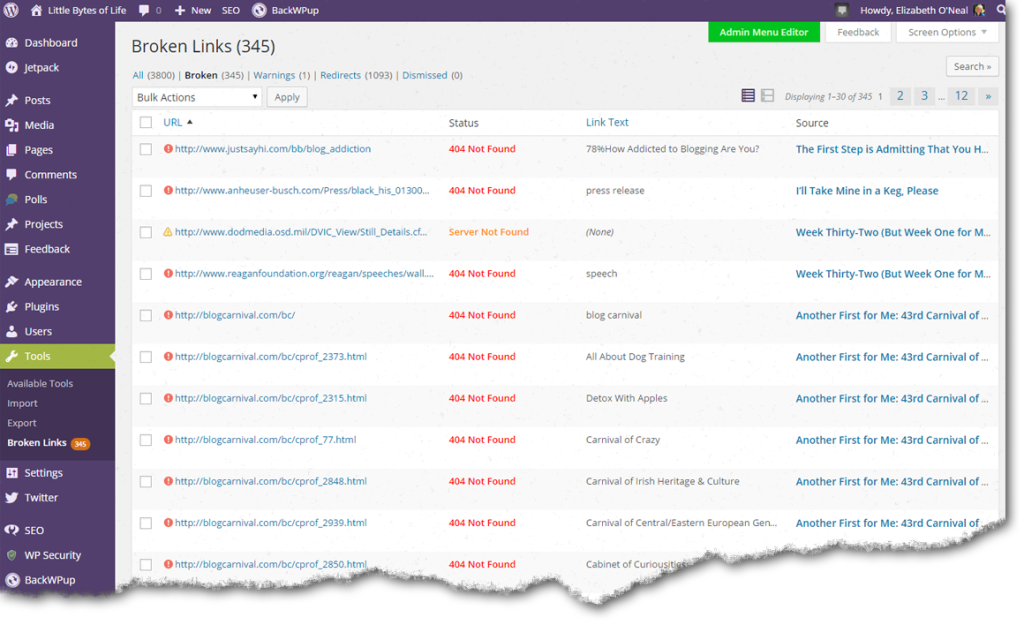 You can vary the amount of time between updates and have the emails sent to whichever email address you prefer. Make these changes in the settings for this plugin.
So why should you care if your links are current? Well, for one thing, you might be losing readers who have already clicked onto your blog, especially if you have posts that are cross-linked. Readers who wander onto a 404 Not Found page will most likely click away rather than stick around and use your search feature (assuming you have one of those).
Also, broken links are bad for your SEO, and you are losing readers via search engines. You want to make sure that your important posts are being found high up in searches, not buried under other, irrelevant stuff, right? And lost readers = lost cousins. We don't want cousins to miss the bait. 
So give this plugin a try, and let me know what you think. And now, I've got to get busy fixing those 345 broken links… ugh.