Now that my blog is (mostly) all settled in here at WordPress, one of the many things I am enjoying is playing around with plug-ins. I had always wanted to allow for easy language translation of my blog posts, especially considering that there may still be cousins living in the non -English-speaking countries from which my family immigrated. I certainly don't want to miss an opportunity to connect because a potential cousin doesn't speak English!
So after noodling around with a several different translation plug-ins, I finally settled on the Google Language Translator. Several of the plug-ins I considered require that you create new, translated pages for every post and each language you want translated. Whoa, who has that kind of time? Google Language Translator was super easy to install, and I appreciated the fact that I could select specific languages which I felt were most relevant to my blog (or you can select all languages, if you prefer).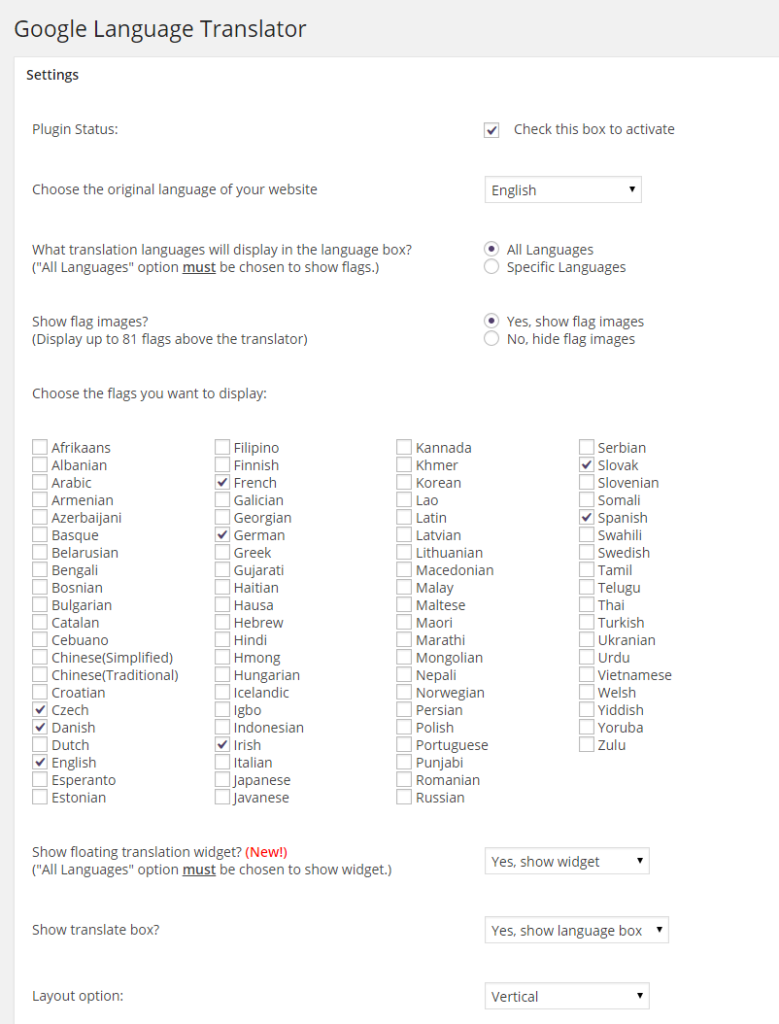 Once you have made your language selections and saved your preferences, the translate box will appear at the bottom of each page, even as you scroll. If you click on the button, a box of flags pops up (these are, of course, the flags of the countries whose languages you selected). You can choose the order in which the flags will appear… I think I left mine sort of random.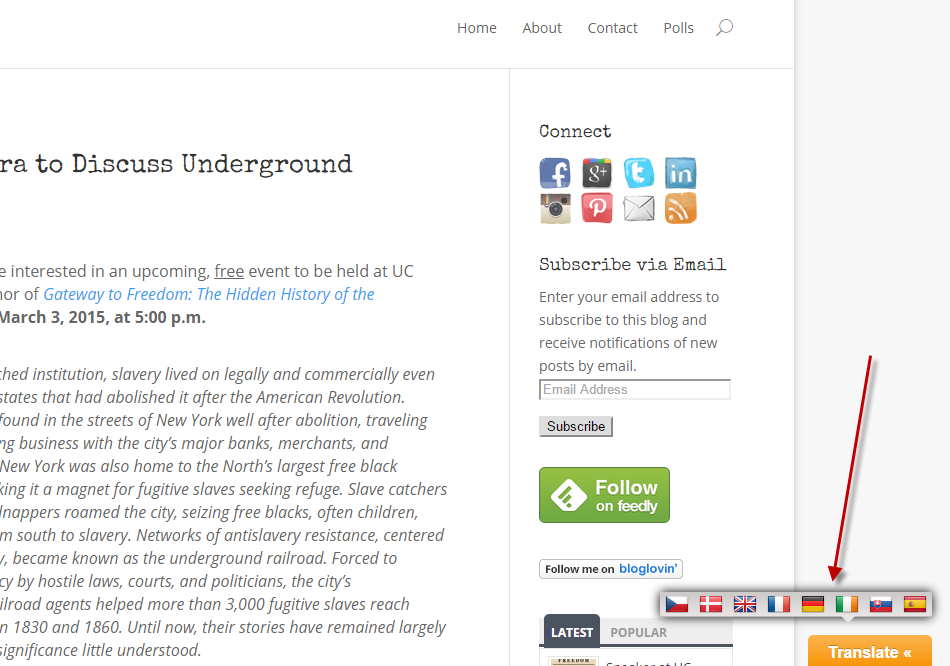 For demonstration purposes – and also because I have ancestors from there – I clicked on the flag of France. You'll notice that nearly every bit of text on the page is now translated into French, even my tweets in the Twitter box in the footer. Try it… I'll wait! Be sure to change back to English when you're done!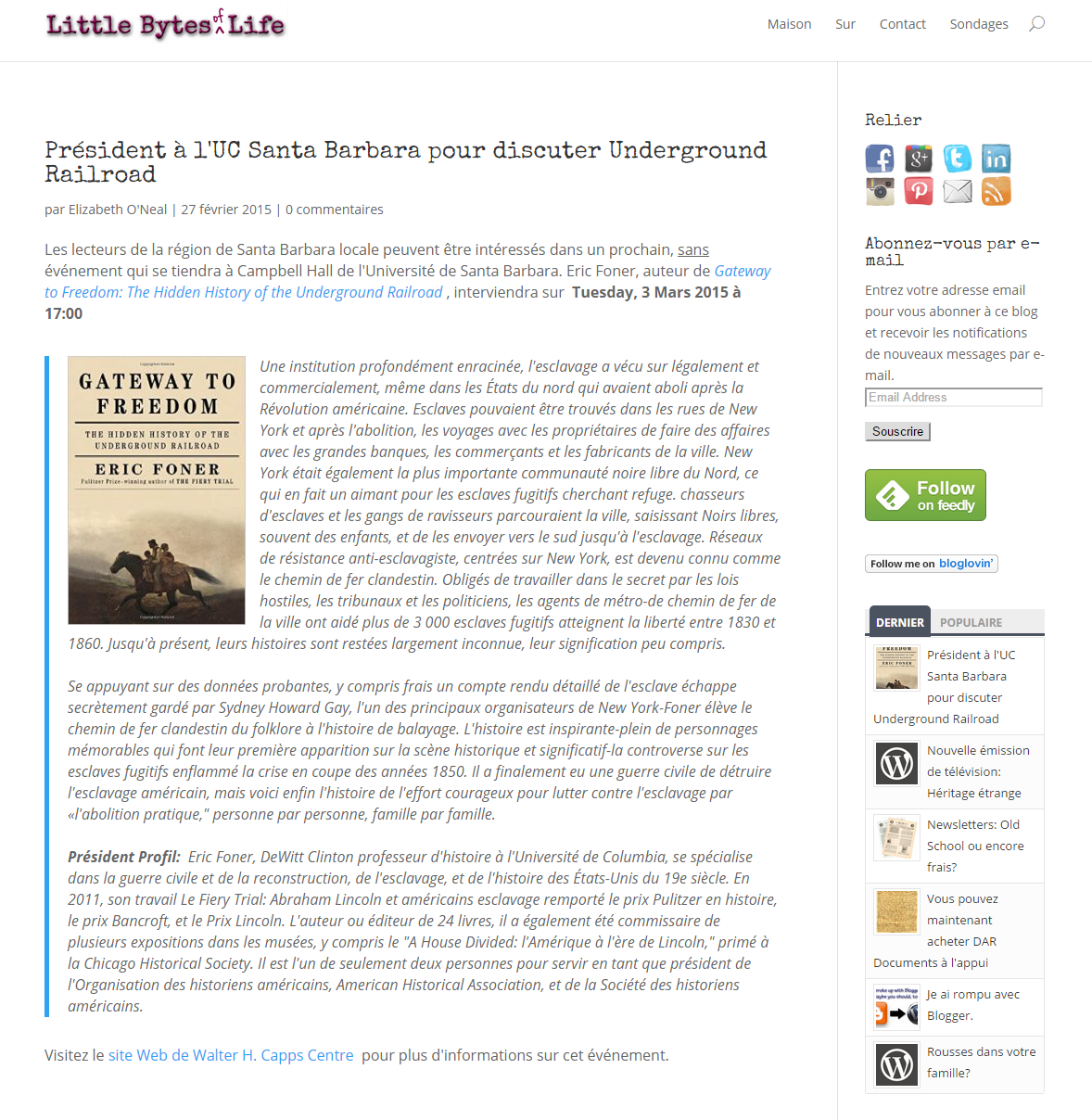 Incroyable, no? I can't vouch for the accuracy of the translation, as my college French is a bit rusty now. But hopefully readers in other countries will at least get the point of what I'm trying to say, even if a few things get lost in translation. 🙂
Elizabeth O'Neal is a genealogist, freelance writer, educator, and web developer. An avid genealogist for three decades, Elizabeth writes the blog "My Descendant's Ancestors" (formerly "Little Bytes of Life"), where she shares family stories, technology and methodology tips, and hosts the monthly "Genealogy Blog Party." When not hunting for ancestors, she enjoys testing new software and social media platforms to find innovative ways to re-purpose them for genealogy.
Latest posts by Elizabeth O'Neal (see all)