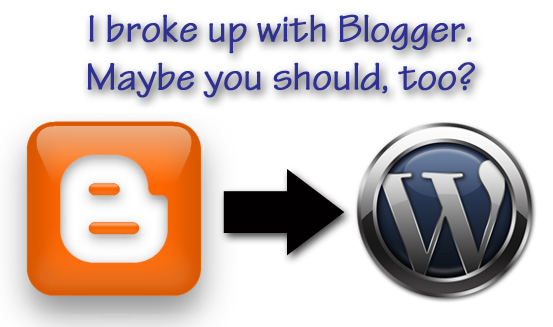 The Backstory
Blogger and I had been in a relationship for a little over 7 years. Things were great at first. Blogger and I shared good times and much love. But over the years, our relationship had become stagnant. I had grown and changed; alas, Blogger had not. I wanted more than Blogger was able to give. So after many expletive-laden disagreements, and more than a few fists to the desk, it was time for Blogger and me to go our separate ways. I broke up with Blogger and started a brand-new relationship with Self-Hosted WordPress.
I had been contemplating this break-up for quite a while. And, truth be told, I'd been cheating on Blogger with WordPress for over a year. I am not exactly new to web development, having built and maintained websites for nearly 2 decades. I was continually thinking, "If only Blogger could ______," just to find that it was a major hassle – if not impossible – for him, but a simple plugin installation for WordPress. I was just so done with Blogger's stubborn resistance to new ideas. So, long story short, Blogger and I are splitsville. But don't worry: my good, ol' faithful Blogger blog is still "out there," pining away for me, although he is now in hiding (there are reasons for this, which I'll get into later).
Now, don't get me wrong; Blogger might be perfect for you. He is trustworthy, has many wonderful qualities, and might actually do everything you want him to do, and then some. If that's the case, then great on you… read no further (nah, keep reading).
Surviving Your Break-Up
Here's the skinny on how I broke up with Blogger and started a new relationship with WordPress. Now, when I say "WordPress," I mean self-hosted, and not the free WordPress.com platform. Having used the free version for another project, I can tell you that that guy is almost – but not quite – as stubborn as Blogger. Still… he might be enough for you. If you are just starting out blogging, give the free version a whirl; you can always move to self-hosted later. Do not, I repeat, DO NOT waste your money to "customize" your WordPress.com blog (which I almost did). Go self-hosted. You will thank me later.
The first thing I did was Google "how to move blogger to WordPress." (I Google everything. People think I'm smart, but I really just type fast.) Lots of helpful information popped up. These are the steps I followed, along with some of my stupid mistakes, which I made so you don't have to. And, rather than reinvent the wheel, I will just point you to a few of those helpful articles I found.
You need a hosting company. That's the place where you will store your blog. Someone else's server, to be exact. I had been with another, not-to-be-named hosting company for several years, and found their pricing structure to be crazy expensive, seeming to increase exponentially year after year. So you can bet that I was extra careful before picking a new company. I did a lot of research and bugged a lot of friends before finally settling on Bluehost. The price was right, especially for unlimited server space, and the customer support is excellent. I can say that because I bothered and pestered them more times than I can remember, and they never got mad at me. At least, not that I know of.

 

You need a domain name. In other words, the web address that people use to find your site. If you don't already have one, you can typically get one through your hosting company, many of which offer reduced prices when you buy a domain through them. Since I already owned the www.littlebytesoflife.com domain, having purchased it years ago through Google Apps for my Blogger blog, there was a bit of a delay with this step. If this is your situation, you will need to email enom to ask them to transfer your domain. Include your domain name and your impossible-to-remember password. They will get to it in a few days. Other domain companies are much quicker, and you can do the transfer from within the dashboard of your hosting company. Be sure to "unlock" your domain before requesting the transfer, and make sure your contact information is up-to-date, as they will send the all-important authorization code to you at whatever email address is on file. If your information is private, as mine was/is, you will need to make it unprivate, or the all-important authorization code will go into the black hole of lost email (yeah, I did that). After your domain is transferred, you can re-enable domain privacy, although there may be a fee to do so.

 

Pick a theme. In WordPress-speak, a theme is basically how your blog looks. Blogger calls them templates. Assuming that you do not write css, you will need to choose from either the many free themes available, or pay for a more custom look. Free themes can be found in the Appearance > Themes section of your dashboard or Google "free WordPress themes." Since I design a lot of websites and have become lazy in my old age (read: I don't want to code anymore), I decided to fork over the cash and sign up with Elegant Themes. But again, some of the free themes are really nice, so don't overlook them.

 

Import your Blogger blog into WordPress. I won't lie to you: this is the scary part. But I survived, and you will, too. Open your WordPress dashboard, and go to Tools > Import and select Blogger. You will need to install the Blogger Importer plugin (don't forget to activate it), and then follow the directions on the screen. This step will take a while, especially if you have a lot of content to import. Just for kicks, put on your heart rate monitor and watch it go wild. 😉
At this point, I'm going to refer you to an article by my fave WordPress blog, WPBeginner: How to Switch from Blogger to WordPress without Losing Google Rankings. Follow these directions, and I mean all of them, even the scary part about pasting css into your Blogger template. I'll admit that I was a bit nervous about this part – it was, after all, so final – and I wound up saving a copy of my old template to my hard drive, "just in case." But in the immortal words of Elsa, "Let it go." Remember, you want people to meet your shiny, new WordPress blog, not hang around with your ex.
Confession Time: I didn't follow all the directions. Like I said, even old coders make mistakes. Eventually, I noticed that my Blogger blog was still getting hits, long after I redirected the www.littlebytesoflife.com domain to this site. Unfortunately, I dawdled and didn't get my permalinks fixed for several weeks (long story), so my search engine rankings plummeted. That's a bad thing. Don't do that. Trust me, the re-direct code works perfectly. Don't believe me? Try visiting www.littlebytesoflife.blogspot.com. I'll wait.
Hey, welcome back! That was fun, right? 🙂
Remember, you broke up with Blogger. You want people to meet your shiny, new WordPress blog, not hang around with your ex.
More good stuff to read:
Blogger To WordPress Migration Guide with Permalink & SEO – Don't waste your time trying to move your Google followers to your new blog. In typical, fickle fashion, Google no longer supports that app. Another thing I learned the hard way.
Blogger to WordPress: Top 10 Most Common Mistakes – I think I made at least 8 of those.
6 things that make moving to self-hosted WordPress less scary
5 details not to miss when you move from Blogspot to WordPress – I missed one.
Some items are repeated from article to article, but there is at least one useful tidbit in each one.
Last Piece of Advice
If you decide to break up with Blogger, the most important piece of advice I will give you is this: DO NOT, under any circumstances, delete your Blogger blog. Hear me now and believe me later: just don't do it. True, you and Blogger have broken up. You have (hopefully) imported all of your content into your new WordPress blog, and pointed people away from your old Blogger blog. But just let him continue to sit there, all alone and lonely. Don't delete him. Think of him as that old boyfriend, sitting by the phone, night after night, waiting for you to call and take him back. It doesn't cost you anything to keep him around, and you feel secure in knowing that he'll always be there. You can still drunk-dial him from time to time, if you must, by logging into www.blogger.com. And he'll be waiting, just in case you need him. Which you won't. Because you've moved on.
So… hopefully I have covered everything, and maybe inspired you to make the break yourself. Keep in mind that break-ups are hard, and it may take some time for you to adjust. To be honest, I am still finding bugs and minor annoyances that need fixing. I'm still tweaking things like font sizes, spacing, etc. But… I survived the break-up. And you will too. 🙂
If you decide to break up with Blogger, I'm here for you. I've got cookies.
Elizabeth O'Neal is a genealogist, freelance writer, educator, and web developer. An avid genealogist for three decades, Elizabeth writes the blog "My Descendant's Ancestors" (formerly "Little Bytes of Life"), where she shares family stories, technology and methodology tips, and hosts the monthly "Genealogy Blog Party." When not hunting for ancestors, she enjoys testing new software and social media platforms to find innovative ways to re-purpose them for genealogy.
Latest posts by Elizabeth O'Neal (see all)