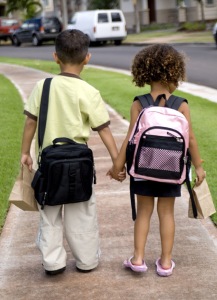 My daughter starts Kindergarten tomorrow.
As you might imagine, our household is all abuzz with excitement: new backpack, new lunch box, new clothes, pencils, erasers, crayons, glue sticks. Everything is in readiness for The First Day of School.
This mom has mixed feelings. On the one hand, I'll get a few hours to myself each week. My daughter has been with me pretty much 24/7 since she was born. I've loved being with her, but sometimes I'd really like to use the bathroom without having company.
But on the other hand, this marks the moment that my baby is no longer my baby.
That's hard to swallow.
Over the past few weeks, I couldn't help remembering my own time in Kindergarten, thinking about how my daughter's experience will be so different from mine.
And as I thought about the whole Kindergarten experience, I began to realize just how basic and important the lessons learned during that time are, and how they can apply to almost anything in life.
Even genealogy.
ALL I REALLY NEED TO KNOW ABOUT GENEALOGY I LEARNED IN KINDERGARTEN
Share everything. Genealogy only works when you share. Keeping it to yourself won't help you.
Play fair. Don't take things from other people without giving credit where credit is due.
Don't hit people. Even if they're hogging the copier at the library.
Put things back where you found them. Unless there's a sign telling you to put them somewhere else.
Clean up your own mess. Those boxes and piles aren't going to organize themselves.
Don't take things that aren't yours. That tree you found on Ancestry.com, the Find A Grave memorial that's already been posted, a Geni.com public profile… Ask first. Most people will say yes if you ask nicely.
Say you're sorry when you hurt somebody. If you swiped that photo off Find A Grave and posted it without asking or giving attribution, it's never too late to apologize. Unless you've already been reported for copyright infringement.
Wash your hands before you eat. And before you handle very old documents or artifacts. Actually, it's not a bad idea to wash them afterwards, too.
Flush. If you don't need it, get rid of it. Or scan it so it takes up less room.
Warm cookies and cold milk are good for you. A cookie break is always a good idea. Period.
Live a balanced life – learn some and think some and draw and paint and sing and dance and play and work every day some. All genealogy all the time might be fun, but it makes Jill a dull girl. Do something different once in a while to refresh yourself and clear your head.
Take a nap every afternoon. Especially if you stayed up all night looking for ancestors.
When you go out in the world, watch out for traffic, hold hands and stick together. Go to genealogy conferences, society meetings… get out in the world and meet other genealogists. They really are nice people, and they like to help. And have fun.
Be aware of wonder. Remember the little seed in the Styrofoam cup: the roots go down and the plant goes up and nobody really knows how or why, but we are all like that. Never forget the wave of emotion that came over you when you stood at the door of your great-great-grandparents ancestral home. Or the excitement of finally finding your grandfather's grave after 20 years of searching. Or the thrill of meeting a new cousin… who happens to own the family Bible. These are the wondrous moments that fuel and feed us.
Goldfish and hamsters and white mice and even the little seed in the Styrofoam cup – they all die. So do we. To put it bluntly, genealogy is the finding of dead people. We all know that. But don't forget that YOU will be named on a death certificate too, one day. Live a wonderful life worthy of remembering. And back up your data in a format that can be passed on to future generations.
And then remember the Dick-and-Jane books and the first word you learned – the biggest word of all – LOOK. LOOK EVERYWHERE. Not everything is on the internet. Look in libraries. Look in Family History Centers. Look in county courthouses. Look in cemeteries. And look at what you've already got multiple times. As your knowledge and awareness change, your interpretation will also change. You can see the same things with new eyes and maybe find answers that were right in front of you the whole time.
Everything you need to know is in there somewhere. The Golden Rule and love and basic sanitation. Ecology and politics and equality and sane living.
And genealogy.
And it is still true, no matter how old you are, when you go out in the world, it is best to hold hands and stick together.
Fulghum, Robert. All I Really Need to Know I Learned in Kindergarten. New York: The Random House Publishing Group, 1986. The words in bold are his; the others are mine.