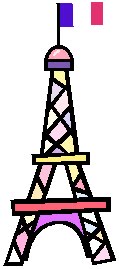 The FAIVRE line connected with my family when Azelia "Zee" Clementine FAIVRE married my great-grandfather George Dames DAGLE. Zee was born on 2 September 1894 in Mt. Sterling, Brown Co., Illinois. She married George and had 2 children: George Marvin (my grandfather) and John Blaine. Zee died on 2 March 1975 in Sioux City, Woodbury Co., Iowa.
Zee's parents were Andrew FAIVRE and Louise REDOUTY. Andrew was born on 10 April 1853, in New York. He married Louise on 14 January 1878 in Scioto, Ohio, and they had 5 children, including Azelia. He died on 11 November 1928 in Sioux Point, Union Co., South Dakota.
There's actually a very interesting story I recently discovered about Andrew, Louise… and a court case involving a lot of liquor and some missing fingers. Read "The Strong Woman: There's One in Every Family" for more about this story.
From what I can tell, Andrew's parents were Andrew FAIVRE and Mary A. PAQUIN. Andrew was born in 1818 in France. He and Mary had 7 children. Andrew the elder died after 1880.
And that's about all I know. As you can see, I still have lots more research to do on this family. I need to put my 2 years of college French to work.
If you think you might have information on the whereabouts of these and other FAIVRE ancestors, please click the Contact button above or leave a comment on this post! 🙂