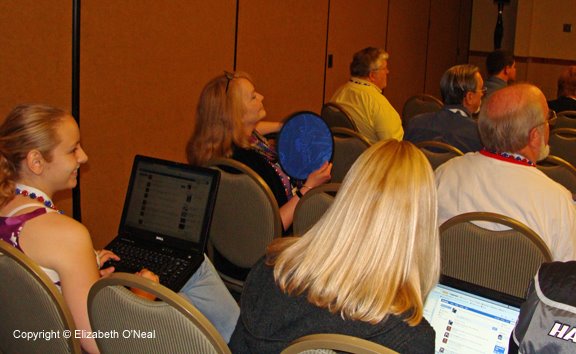 BURBANK – Dozens of genealogy bloggers brought down the Burbank Marriott's wi-fi system by simultaneously blogging and tweeting during the highly-anticipated Son of Blogger headline event.
Randy Seaver, pictured above (top right), was responsible for a majority of the tweets. Before the event, he was overheard telling other bloggers, "We want to see #scgs09 become a Twitter trending topic, or else!" Seaver is known for stirring up unrest in the genealogy community with his blog Genea-Musings.
Most bloggers remained quiet during the event. However, the sound of typing was a major annoyance for non-bloggers in attendance.
No injuries were sustained, but several computer batteries and cell phones died during the event.
DISCLAIMER: While there were plenty of bloggers tweeting and blogging during the summit (this one included), there was no malfeasance intended. I think.
Read the Rest of the Series:
Part 3: JAMSTOCK '09: Bloggers Crash Marriott Wi-Fi
Elizabeth O'Neal is a genealogist, freelance writer, educator, and web developer. An avid genealogist for three decades, Elizabeth writes the blog "My Descendant's Ancestors" (formerly "Little Bytes of Life"), where she shares family stories, technology and methodology tips, and hosts the monthly "Genealogy Blog Party." When not hunting for ancestors, she enjoys testing new software and social media platforms to find innovative ways to re-purpose them for genealogy.
Latest posts by Elizabeth O'Neal (see all)
(Visited 1 times, 1 visits today)