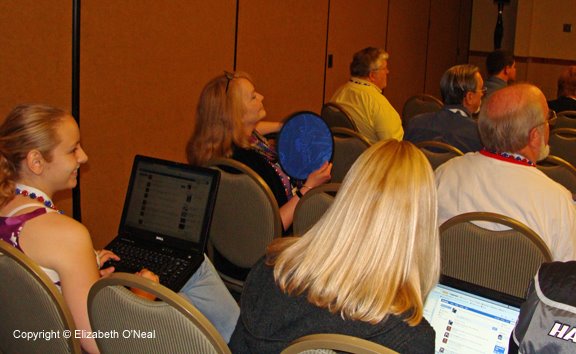 BURBANK – Dozens of genealogy bloggers brought down the Burbank Marriott's wi-fi system by simultaneously blogging and tweeting during the highly-anticipated Son of Blogger headline event.
Randy Seaver, pictured above (top right), was responsible for a majority of the tweets. Before the event, he was overheard telling other bloggers, "We want to see #scgs09 become a Twitter trending topic, or else!" Seaver is known for stirring up unrest in the genealogy community with his blog Genea-Musings.
Most bloggers remained quiet during the event. However, the sound of typing was a major annoyance for non-bloggers in attendance.
No injuries were sustained, but several computer batteries and cell phones died during the event.
DISCLAIMER: While there were plenty of bloggers tweeting and blogging during the summit (this one included), there was no malfeasance intended. I think.
Read the Rest of the Series:
Part 3: JAMSTOCK '09: Bloggers Crash Marriott Wi-Fi