Bill West of West in New England has issued a challenge to fellow genealogy bloggers to design a float for the Genealogy Parade.
When I first read about this, something utterly silly and almost embarrassing popped into my head, and I thought, "No way, I can't say that."
But after a frustrating few hours of once again finding absolutely NOTHING about my elusive Delaney ancestors, I've decided to go for it. After all, aren't first reactions usually the most true and honest?
So, here's my float: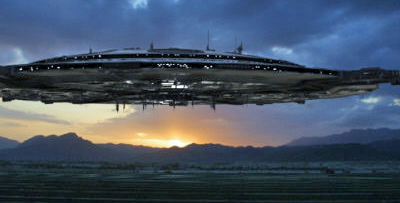 That's right folks… it's The Mother Ship, appropriately representing my mother's mother's family.
Despite the claim that they came from Ireland, I'm fairly certain that her ancestors were beamed here by aliens. Sadly, I can find almost no trace of them anywhere, nor can I find others who are looking for them.
Coincidence? I think not!

Here's my dilemma:
Richard John Delaney is my most distant "known" Delaney ancestor. He was probably born c. 1840 in Ireland, and he was married to a lady of the surname Bergin, but whose first name is unknown. They had four children: Jerimiah (b. August 1858), Bridget ("Bess"), Mary, and my great-great-grandfather, Dennis Daniel (June 1863 in Belfast, Ireland).
We could just call him "E.T."

After Richard's/E.T.'s wife died, he supposedly emigrated with his children to the U.S. in either 1862 or 1892.
How did they get here? By spaceship, of course! There are no passenger records for UFOs, silly people!
My great-great-grandfather Dennis Delaney married Nellie Coyne (b. March 1875, in Illinois) in approximately 1895.
I imagine they met in a crop circle somewhere in the Midwest.

They had two children: my great-grandmother, Elizabeth Marie Delaney (b. Sept. 1895), and her brother Richard John Delaney (b. Feb. 1898), both born in Nebraska. They're all found alive and well in the 1900 U.S. Census living in Lancaster, Nebraska. Dennis is 36 and working as a railroad engineer. He states that he came to the U.S. in 1882 (on that spaceship, with his dad!).
Now, here's where the trail grows cold:
Family legend says that Nellie died in a car crash in about 1901. I can only assume that this tragedy happened in Nebraska, but I've found nothing to prove it.
Perhaps she was called back to the Mother Ship?

Following her death, Dennis dropped his two kids off with his brother and sister-in-law, Jerimiah and Zella Delaney, and supposedly made a mad dash for Kansas. Or Oklahoma. Or Jupiter.
Poof! Dennis and Nellie have both vanished off the face of the earth!

I've been told by a family member that one day while Uncle Jerry was out of town Aunt Zella took the kids to an orphanage where they stayed until they were old enough to work.
Yikes.
So, after years of searching the Census for kids in orphanages (without knowing which state or planet), I recently put the right mysterious variables into the Ancestry.com search engine and found Elizabeth and Richard living with Uncle Jerry and Aunt "Zalla" in 1910 in Clay County, Nebraska. This was nine years after their mother supposedly died.
Could Jerry and Zella have had second thoughts about that orphanage? Or perhaps Elizabeth and Richard were home on vacation?
Or was "orphanage" code for SPACESHIP???

Dennis is nowhere to be found at this point. I've head that he lived for several years after he left his family, but again, I've been unable to find any proof.
Was he called back to the Mother Ship too? Who knows! They don't leave records for us humans to find!

Jerry and Zella had a daughter, Laura, b. 1889 in Nebraska. In 1910, she's living with her parents in Nebraska. In 1920, she's once again found with her parents, but this time she's listed as a "widow."
Hmmm… I wonder what happened to her husband?

Elizabeth was married to Thomas McGraw by 1917, I assume, since my grandmother, Mary, was born in May of that year. They had four more children: Thomas Jr., Delores, Robert, and Myda. Thomas deserted his family after 1930, leaving his wife to care for five children by herself.
Another one beamed home, maybe?
Nah, but that's a story for another day.
The truth is out there. I just haven't found it yet.
*~*~*~*~*~*~*
So stick a shamrock on the Mother Ship, and my float is complete.
What does YOUR float in the Genealogy Parade look like?